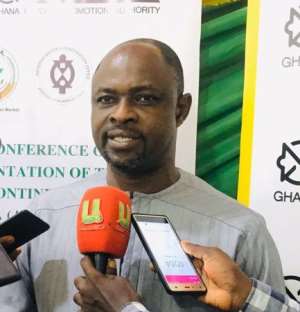 The Ministry Of Trade and Industry (MOTI) together with Ghana Export Promotion Authority (GEPA) and National African Continental Free Trade Area (AfCFTA) Coordination Office have organised a regional conference for the people of Ahafo in the implementation of AfCFTA agreement and National Export Development Strategy (NEDS).
The conference which was held at the Pastorial Centre in Goaso the capital of the region brought together over 150 participants from both public and private sectors under the theme "Empowering Ghanaians Businesses To Harness The Benefits Of The African Continental Free Trade Agreement Under The Framework Of The National Export Development Strategy (NEDS) ".
On behalf of the Trader Minister, the Industrial Parks and Special Economic Zones Technical Advisor, Dr John - Hawkins Asiedu said the purpose of the conference is to sensitize and prepare the people to position them to meet the requirements in the continental market when the agreement officially commences on 14th January, 2021.
"When the agreement is fully implemented, it will boost the intra-African trade by as much as 52.3 percent by 2022 and could double as non-tarrif barriers are eliminated," he stated.
According to him, government has established key national institutional structures to oversee the implementation of the AfCFTA agreement, including the Inter-Ministerial Facilitation Committee, National Steering Committee and Technical Working Groups on seven clusters for Boosting Intra - African Trade (BIAT) to help Ghanaians businesses fully participate.
He concluded by seeking the cooperation of the private sector to work together to unpack and address the complexities of the regional integration whilst ensuring that the implementation of the AFCFTA leaves no one behind.
The Deputy Chief Executive Officer (CEO) of Human Resource and Administration for Ghana Export Promotion Authority (GEPA), Albert Kassim Diwura who spoke on behalf of GEPA CEO explained that the document which has 10 years lifespan can help the country amass 25.3 billion US dollars from now to 2029.
He hinted that currently what GEPA seeks to do is to put more emphasis on value addition on products produced by both public and private institutions in order to suit the market of the various countries agreed to be part of the agreement (AfCFTA).
He noted that GEPA has drafted a policy called one district one exportable product which means every district will identify one product and cultivate to be exported for foreign exchange.
The Ahafo Regional Director, Samuel Donkor in his welcome address on behalf of the Regional Minister thanked the organisers of the conference and encouraged the people of Ahafo to take full advantage of the agreement.
He explained that the agreement will help the region which is key producer of varieties of foodstuffs and natural resources to attract both internal and external investors.
So far, 54 out of 55 countries with the exception of Eritrea have signed and 30 countries have ratified the agreement.