John Dumelo Is an Opportunist Who Needs to Be Called Out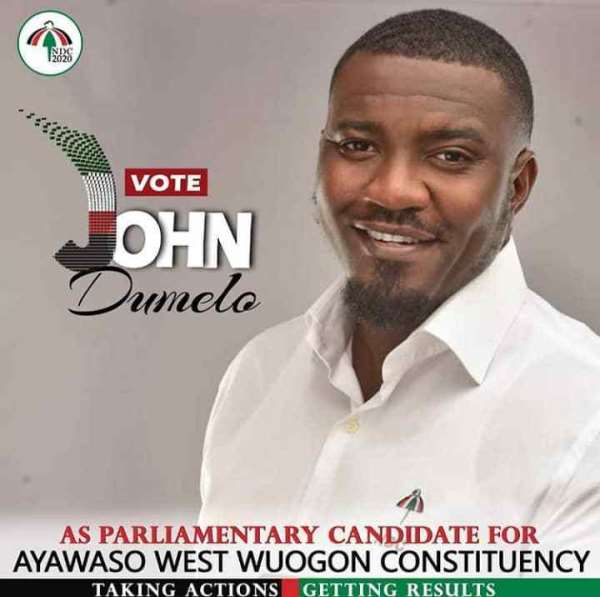 Generally, I firmly believe that the quality of the performance of the members of Ghana's National Assembly or Parliament leaves much to be desired. But so is it even here in the United States of America, where our democratic culture is over two-hundred years old, that is, if one considers democracy as the patrimonial property of the Aryan White Man. Still, I strongly believe that Ms. Shirley Ayorkor Botchwey, Ghana's Minister of Foreign Affairs and Regional Integration, was smack on the money, as it were, when Mr. Botchwey verbally punched the locally renowned actor Mr. John Dumelo for casually presuming to trivialize the very adult and serious business of Parliamentary Culture.
I unreservedly concur with the New Patriotic Party's Member of Parliament for the Anyaa-Sowutuom Constituency, in the Greater-Accra Region, that Mr. Dumelo is scarcely a parliamentary material or the sort of bona fide Ghanaian citizen who ought to be representing the inhabitants or residents of any constituency in the country (See "Foreign Minister Hot as Pressure Mounts on Her to Apologize to Filmmakers" Kasapa-FM / Ghanaweb.com 11/29/20). First of all, there is absolutely no legitimate comparison between such globally famous American actors turned political legends as President Ronald Reagan, the man who signed into law the annual celebration of the Birthday of African-American Civil Rights Spearhead, Dr. Martin Luther King, Jr., though the former California governor also reportedly claimed that he did not care very much for either the personality or the game-changing activism of the Atlanta, Georgia-born evangelical preacher man. Then, of course, there is also mention made of globally famous action-movie actor and Austrian-born Mr. Arnold Schwarzenegger, also a former governor of the State of California, in the news story referenced above.
Unarguably, the most accurate and appropriate comparison of Mr. Dumelo to any American actor-turned-politician ought to be the lame-duck desperately kicking President Donald John Trump. Both of these two shady faux-political John cartoon characters are passionately racist; in the case of Mr. Dumelo, the pathology is one of ethnic chauvinism. You see, shortly after he was exposed by a member of the ruling New Patriotic Party for registering to represent the residents and citizens of the Ayawaso-West-Wuogon Constituency, where he had never lived nor was ever known to be a taxpayer, the first gut reaction of Mr. Dumelo, by way of a political strategy, was for the latter to quicky scurry across the Volta River into the Hohoe Municipality, where one of his parents, or perhaps even both of them, presumably, had been born in order to use his mickey-mouse fame and popularity to hog the Hohoe parliamentary seat on the ticket of the Mahama-led main opposition National Democratic Congress.
Obviously, this opportunistic attempt to win or cannibalize undeserved power for the National Democratic Congress did not work in the Hohoe Municipality, for the Hohoeians were no pushovers to be facilely awed by Mr. Dumelo's tinsel-town fame and popularity. Which also explains why this brassy Mahama shill is back in the Ayawaso-West-Wuogon Constituency, where Mr. Dumelo has been campaigning without any well-thought-out economic development plan or agenda, except such arrant nonsense as giving up half of his salary as a parliamentarian, that is, in the highly unlikely event of clinching the Ayawaso-West-Wuogon parliamentary seat, come December 7, 2020, for use in some dubious or nondescript community service in this constituency of a sizable percentage of the most highly educated Ghanaian citizens.
In other words, it is very obvious that the popular actor is an overnight political scam-artist without any substantive message or agenda, just like his prime mover and benefactor, Candidate Mahama, who has been shamelessly running on the achievements of President Addo Dankwa Akufo-Addo, in the main, the highly successfully implemented fee-free Senior High School System, which Candidate Mahama had initially fiercely opposed. Well, John Dumelo and his kleptocratic National Democratic Congress' sponsors cannot hide behind the façade of the decidedly ramshackle Ghana Film Industry, whose development successive governments of the Social Darwinian National Democratic Congress have done a diddly little to absolutely nothing to promote.
About the only compelling motive for Mr. Dumelo's decision to gun for Parliament on the dirty-green ticket of the National Democratic Congress may very well be predicated on the widely reported thievish-gifting of some two or three taxpayer-owned four wheelers to him by former President John Dramani Mahama or his assigns, in much the same way that the most pathologically corrupt Fourth-Republican Ghanaian leader has been known to frivol the Ghanaian taxpayer's money on purchasing plush homes and expensive four-wheelers for political sidekicks like Madam Akua Donkor, Founding Presidential Candidate of the so-called Ghana Freedom Party (GFP), and movie industry fixtures and putative "Slay Queens" like Ms. Tracey Boakye.
There is absolutely no need to argue over the stark fact that venturing into the 2020 Parliamentary Election, Mr. Dumelo is absolutely no match intellectually, professionally and politically for Mrs. Lydia Seyram Alhassan-Agyarko, the parliamentary incumbent of the Ayawaso-West-Wuogon Constituency and widow of the well-respected NPP-MP, Mr. Emmanuel Kyeremateng-Agyarko. But even more farcical, pressuring Ms. Shirley Ayorkor Botchwey, the voluntarily outgoing or retiring New Patriotic Party's Member of Parliament for the Anyaa-Sowutuom Constituency to apologize for putting Mr. Dumelo where he properly belongs is tantamount to unpardonably insulting the intelligence of both the highly enlightened eligible voters and residents of the Ayawaso-West-Wuogon Constituency and the Ghanaian electorate, at large, by shamefully reducing the very adult business of parliamentary culture to a mere popularity contest.
Minus his admittedly quite remarkable acting skills, John Dumelo is just another ordinary street-brawling NDC thug who ought to be raking garbage in sanitation-challenged places in the Greater-Accra Metropolis like Edwin Nii Lante Vanderpuye's Odododiodio Constituency or the Chorkor District of Accra. Not very long ago, for example, Mr. Dumelo was widely reported to be advocating physical violence against some of his political opponents. This is the profile of a veritable bigtime buffoon, not a serious heavy-lifting politician or statesman. This social parasite must not be representing anybody on any day in our august National Assembly. And I bet Shirley Botchwey, my favorite "Ganyobi," got it down pat this time around.
*Visit my blog at: KwameOkoampaAhoofeJr
By Kwame Okoampa-Ahoofe, Jr., PhD
English Department, SUNY-Nassau
Garden City, New York
November 30, 2020
E-mail: [email protected]