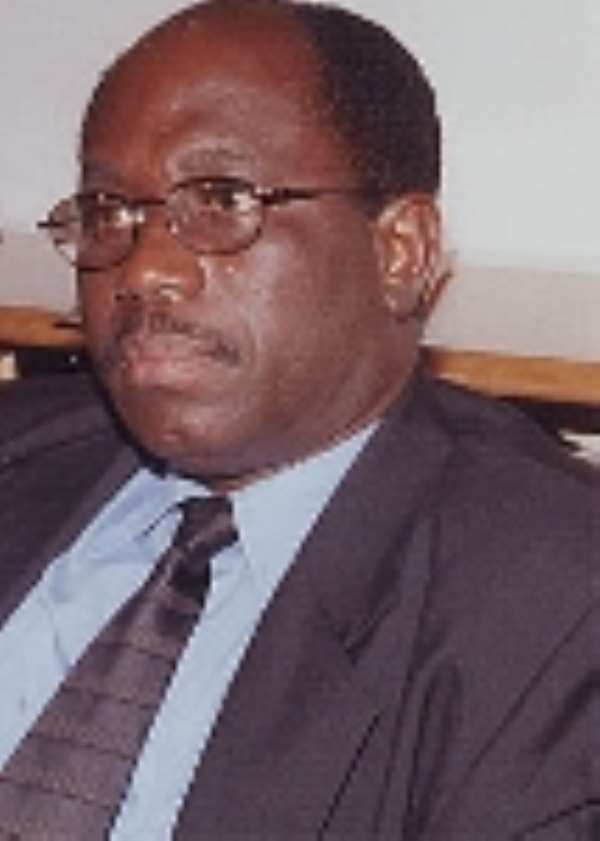 After Tuesday's screeching resignation of one of President John Agyekum Kufuor's Ministers, the dust is about settling on the untarred feeder roads of political cacophony.
President Kufuor's unscheduled task now is to fill that huge human pothole on his development highway. Since 2001, about $1.5 billion has been voted for that particular sector, a testimony to its overwhelming significance in the scheme of things.
With Dr Anane set 'free' to fight the CHRAJ decision against him in court, one suggestion has been that another cabinet minister must be made to act as Road Transport Minister for the time being.
A precedent was set after Malik Alhassan Yakubu's resignation in 2002 soon after the murder of the Ya Na. Defence Minister Kwame Addo Kufuor doubled as acting Interior Minister. But, Mr Yakubu did not win back his cabinet seat after the Wuaku Commission exonerated him.
Dr Anane is seeking a judicial review on findings that circumstances surrounding a $100,000 transfer to his lovechild in America and the relationship that gave birth to the child amount to conflict of interest, abuse of power and perjury. On September 22, the Commission on Human Rights and Administrative Justice made a recommendation to the President to sack his dedicated and hardworking lieutenant.
Given the near-overwhelming public perception that Dr Anane delivered with distinction on his specific portfolio mandate, he could make a Mandelsonian return if he wins his fight against CHRAJ.
British MP and premier Tony Blair's close aide, Peter Mandelson was revived twice after allegations of conflict of interest, even if he was eventually shipped out to Brussels to a more lucrative and relatively secure job as EU Commissioner on Trade.
Yet, after the to-resign-or-not-to-resign roadblock, the political traffic is now jammed by a fairly long list of aspiring Road Transport Ministers.
These include former Kumasi Metropolitan Assembly Chief Executive and now MP for Asokwa Maxwell Kofi Jumah; former New Patriotic Party National 1st Vice Chairman Stephen Ntim; Harbours and Railways Minister Christopher Ameyaw Akumfi; Aviation Minister Gloria Akuffo; former Local Government Minister and now Minister at the Office of the President Kwadwo Adjei Darko; and Parliamentary Affairs Minister Felix Owusu-Adjapong.
Deputy Roads Minister Magnus Opare Asamoah may also feature prominently.
In our time honoured tradition, The Statesman has been analysing the various men and women who might fit the bill.
Maxwell Kofi Jumah, popularly known as Kofi Ghana, is seen as a strong, no-nonsense, confident, street-wise and results-driven party loyalist. Given the need for a strong man at the Road Transport Ministry, in view of its importance to the overall development agenda of the NPP government, Mr Jumah may finally see his long-awaited 'compensation' for quitting his lucrative job as mayor of the Garden City to commute on City Link to Parliament on an almost daily basis.
Mr Jumah is far too loud and robust in character as compared to the seemingly low key Nhyiaeso MP. Ironically, not only the outward modesty of Dr Anane could deny him the record of the longest sustained 'scandal' of the Kufuor administration.
If Dr Anane's renowned perpetual verbal contribution to any issue raised at Cabinet is anything to go by, then the odds may not be bad for assertive Mr Jumah.
Widely seen as a good organiser and a party man with modern ideas, and international experience, Stephen Ayesu Ntim, after his failed attempt to become NPP National Chairman in December last year, was widely tipped for a ministerial position. With his knowledge in information technology and an abiding passion for results, the Communications or Local Government portfolios were once considered safe havens for him.
Now with the departure of his close buddy, it could serve as some psychological continuity, at least, if the former First Vice Chairman of the ruling party gets the nod. A man who likes to employ the requisite expert hands to compliment his own prowess, Mr Ntim may be trusted to slot into the Anane role smoothly.
Also, the tactician that he is, he has managed to heal competition bruises picked up during his charged duel with Peter Mac Manu. In spite of his renowned shrewdness (if in doubt cross-check on how Josiah Aryeh lost his NDC general secretary job), Mr Ntim has a calm demeanour and a seemingly modest personality, which would endear him to those in the ministry and beyond who have grown used to the Anane operational style. The country would not be surprised if Mr Ntim, seen as a strong Kufuor loyalist, makes his maiden appearance before Freddy Blay and co of the Parliamentary Appointments Committee.
But, The Statesman has been informed that Government is reluctant to add to the Ministerial list. So let us attempt to be inward looking, for a change.
There are other considerations in filling Dr Anane's position. In trying to make his government lean and mean before his last reshuffle, President Kufuor is said to have considered bringing all the transportation segments under one ministry.
The trouble at the time was, who to head it? Eventually, he chose not to take any decision on the matter. Dr Anane had already lost Aviation, his ministerial Achilles' heel to the Chief of Staff's Office. In the last reshuffle in April, Gloria Akuffo was presented with a post-Ghana Airways Ministry of Aviation.
Christopher Ameyaw Akumfi may have two options laid before him: to either act as Road Transport Minister or substantially annex that Ministry with his own Harbours and Railways portfolio.
Pundits predict that Prof Ameyaw Akumfi could head the newly consolidated transport ministry if the President decides to create one.
On paper, it may seem simpler to add Aviation back to Road Transport. But, in the eyes of some Ms Akuffo is considered a paper weight when weighed against the Prof. But, she is most definitely physically fitter than the academic-turned-politician.
After losing the Local Government portfolio after the 2004 elections, Kwadwo Adjei-Darko spent some time in the Brong wilderness until he was recalled in the last Ministerial reshuffle, this time as a minister at the Office of the President. Some argue finding his exact duties at the Castle may be just a little easier than finding his way around the mines and wilderness of portfolio-less existence after February 2005.
But, he is dependable, highly politically astute and familiar with development budgets.
Having gone through the vetting process already, Mr Adjei-Darko's appointment is seen as convenient, especially as Government is reportedly leery of padding the ministerial list.
The President may play it even safer and reward his general in the legislature, the indomitable MP for Akyem Swedru, Felix Owusu-Adjapong. Navigating his way through the Road sector can be expected to come to the lawyer without the handicap of hitting an eagle round a dog leg on an 18-hole golf course. He is likely to handle it with the ease of a teed shot.
The question is: who can be trusted enough to transport the Kufuor agenda on the highroad set by the medical doctor-cum-politician?
The race to succeed Dr Anane may not be limited to just full time ministers, though. It may be rather more intimate, from the ministry's workers' point of view. Magnus Opare-Asamoah can be said to have become very familiar with the road map and can chart his way around the contours of the sector without a rookie's compass.
Having worked with Dr Anane since he was made Road Transport Minister, Mr Opare-Asamoah is seen as having had the necessary training to fit into the big boots of his former boss. The Akuapem South MP may just get the nod and he has friends like Nick Amartefio to make sure the Castle does not overlook his worth.
Whoever takes over the wheels of Richard Anane's job must be as competent, if not more competent, in order to continue the Kufuor drive on the fast-track to the nation's infrastructure development journey.
May the lobbying begin...