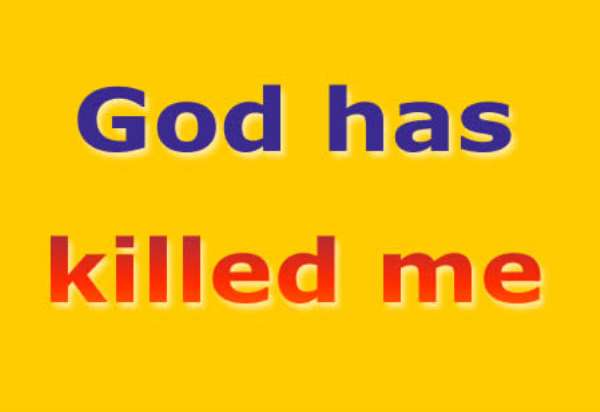 "Yes, everyone can do that...as long as he or she is willing to do anything necessary under any circumstances to achieve the target."
"Obedience?"
"Yes, obedience to life!" answered Mr Karl while seeing a phone call was coming in. He recognized the number of Prophet Emmanuel Badu Kobi. He greeted his Prophet and kept quiet not saying a word. He was informed that shortly he would have a possible car accident, just before reaching Lashebi exit. The evil forces in his life had planned to finish him finally. He should take extremely good care while driving and be on the lookout for cars standing by the roadside that would all of a sudden come out and speed after him to make his car turn over and crush his chest so that he would die on the spot. He said a short protective prayer and blessed his life to last awfully long.
"George...see over there...the car."
"Yes, Mr Karl...I have seen this car already from the distance and find it very, very strange how it is parked there. Something deep down in me is telling me something is not right...very strange indeed. So, I will extra be cautious when we get closer and pass it."
Suddenly, the grey car, a strong SUV from Japan, started to move, very slowly at first but taking momentum to increase the speed with full force. Tyres were going up in smoke, but as George had seen the dangerous situation coming was he able to squeeze himself in between two trucks on the left side of the highway impossible for the grey SUV to catch them in between the trucks and push them over to turn and turn...and die. George saw that the grey SUV moved at the same speed with his car that was still in between the two trucks trying hard to find a way out and push his car onto the side bank of the Highway. He made sure that he got closer in between the two cars which was not without risk as at any time the truck in front could have stopped or reduced the speed without the truck in the back to react right on time. Miles after miles flew by. George tried hard to find a way out of this dangerous situation. Suddenly, the grey SUV had a puncture and overturned on the right lane into the nearest ditch and went up in flames.
She was hiding behind a kiosk being a person not used to jump onto anyone but take one step at a time. Samuel Poku, a friend of both from Kumasi, had selected her as his future wife. He had asked him what kind of woman he had wanted, he gave his description and expectation and three days later he got a photo mailed to him, once opened it said yes to her. This was two months ago, and they had come down from Kumasi to visit Mr Karl in Sakumono Estate. At the top of the Estate at the taxi rank is where they agreed to have their very first meeting to find his apartment was for people not familiar with the Estate, not an easy task. Her father had joined them while her mother had stayed at home unable to speak English but Twi only. She had left the introduction of Alberta Mensah to her husband and Poku Samuel.
While greetings both men Mr Karl looked around and was confused asking: "But where is my wife?"
"She is over there," mentioned Father Mensah pointing to a kiosk a few meters away.
Mr Karl walked to the place pointed to and saw her standing behind the kiosk. He said his name, she turned around, looked at him and started to take him into her arms never letting him go anywhere. Little did they know about their deep and affectionate love that would see ups and downs in life come and go being managed with the help and grace of God. It was God at the end that had to lead them to face each other's hearts and souls. She was slim, one head size smaller than him, a very comfortable body size as he would later always put it, head the woman´s curves at the right places with an impressive African apple she called her bottom shape, a nice handful of the body part that is so well laid out in the hands of a man that knows to love ladies and has a perfect taste for perfect female bodies. What he began to love about his wife though was not her body, that he would see in future as an extra, but the real catch of Alberta Mensah was her honest, passionate, empathetic personality believing and trusting God in all walks of life getting messages from him always in her dreams during nights as well as during day time. Unlike him that constantly was thinking ahead of time, a dreamer with vision and passion for what he saw before his inner eyes, she was very much a down to earth person, having eyes for others always, being in love with people she felt she had to care for. Sometimes she was forgetting her own interest to serve others very well and make them feel comfortable in life.
Mr Karl guided his guest from Kumasi to his apartment, served them cake and coffee while his wife sat next to him assisting him in all the household issues. She behaved as if both were already legally and traditionally married and it felt for Mr Karl as if he had known Alberta all the way. The only what he wanted to change is her name thinking it was the name of an old woman calling her always Ally instead. As he was expecting her to pay him a visit and step by step start a closer and closer relationship, Poku Samuel and Father Mensah set off later that afternoon leaving his daughter in the hands of her German husband much to his surprise. He was not prepared for that move but ready to cope with any challenge brought to his doorstep. As both did not feel to be stranger to each other but head one husband and wife to sleep side by side that very first night seemed for both to be normal and common. Little did he know at that point in time about her background and personality. After leaving school she had been for six years at a training college to become a professional dress designer and maker even only for ladies though great at what he did for her customers running her own small sewing shop with two employees assisting her in the party, casual and wedding dressmaking. She loved her job but eventually ventured into running her own provision shop in a small container around her parent's house while her mother was sitting under trees opposite ECOBANK branch in Kumasi until she was kicked out of the area helping her daughter with the provision shop. Opening the container at six o`clock each morning, except for Sundays which was reserved for Church Service until two in the afternoon, she was mainly always present in the shop that she closed at eleven at nights. While she was in the market buying foodstuff for her container or on rare occasions attending to other needed businesses her mother would run the provision shop for her. Otherwise, she loved her work and did not mind the many hours she had to sit, wait, and sell in the container. She had no time at all for any private life or even a love relationship, but faith in God that all the prophecies spoken by her beloved Bishop one day would come to pass. Even before she opened the provision shop, she knew one day she would be a rich woman, a rich woman indeed. The blessing on her would make her stand out from the crowd and she would prove herself a blessing to many others. She always had in mind not to marry a black man but to go for a white man only. It was not the money that attracted her to such an idea, it was the thinking that was so different from her own people. She never saw any go thing coming to form the black man´s mentality but knew in a white man`s mentality lied her blessings of understanding this world much better. She was not born to be an intellectual but as a helper to a man that would have such a capacity and life-style so much in need of a woman pointing out life`s matters to him his mind would not see. Blessed with the gift to prophecy and see beyond the obvious in life instead rather discover things hidden behind the curtains of life, that is what she wanted to bring to the table of a marriage with a white man. When he looked at him for the first time she knew she had found the man she was born for and knew no matter the misunderstandings that would come in any marriage bot would overcome any obstacles in their way. In her mind, she was very certain that her own children one day would not mix with black children but stay away from the evil spirit her own people carry. Being part of them from childhood she knew only too well what she was talking about and had friends, nice ladies, that though just the same like her, to get married to a white man and be respected, to be treated well.
Ally asked Mr Karl to join him at least during the early morning hours of the day interested in seeing his work and understand what he stood for. George drove both to the newly opened private school with Kindergarten. They entered the school and sat down at the back of the classroom. It was class ten, twenty pupils in their teenager years. They were learning entrepreneurship and management. It was a normal school accredited by the Education Ministry but was different from all other schools around as from class ten pupils were able to school the subjects that later in life would benefit them most. While from one to ten all subjects of the public schools around were taught as well yet on a higher and more intense level, from call ten to thirteen, copied from German A-Level criteria, they choose to their main interest in life be it working in the arts, media, business, entrepreneurship or social and medical care environment laving subjects behind that would not need later in life anymore. Mr Karl was proud of his achievement knowing from his own childhood how much he had wasted his time learning maths, chemistry, and physics he never needed in life as an adult, just a waste of his youth.
"Now you can turn around and you can ask Mr Karl a few questions," smiled Ms Paulina Owure at her students and Mr Karl and his wife Ally.