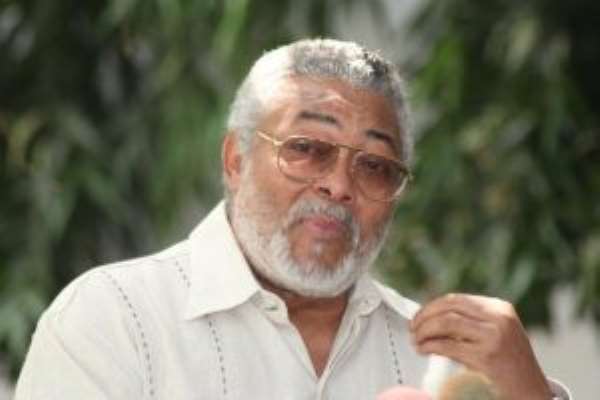 I have read what has been titled "FULL TEXT: Rawlings' Unedited Response to Prof. Ahwoi's Controversial Book" (Ghanaweb.com 8/26/20) and find it, in Shakespearean parlance, to be full of "Sound and Fury, Signifying Nothing." It signifies nothing because the Jerry John Rawlings' rejoinder, which, by the way, is signed by Mr. Kobina Andoh Amoakwa, a so-called Communications Director for the longest-reigning Ghanaian strongman – actually half-Ghanaian strongman – and faux democratically elected former President for two terms of office or 8 years, does not serve up anything that is either remarkably refreshing or epistemically revelatory or new. It is characteristically self-righteous, pretentious and morally and intellectually insulting. But, of course, that is perfectly Mr. Jeremiah John Rawlings all right.
Rawlings ought to be fiercely and vehemently challenged on the question of the authorship of Ghana's Fourth Republic. You see, it is rather insufferably and inexcusably preposterous for a man who has publicly and arrogantly confessed that he is an inveterate enemy of democracy and democratic political culture to be cavalierly taking ownership of the collective struggles of progressive-minded Ghanaian leaders like Messrs. Addo Dankwa Akufo-Addo, Albert A. Adu-Boahen, Joseph Henry Mensah, B J da Rocha and Kofi Annan, the globally renowned Nobel Peace Prize Laureate and the immortalized first Black-African Secretary-General of the United Nations Organization (UN), and the global anti-Communist and anti-socialist forces that auspiciously precipitated the apocalyptic collapse of the Eastern-European countries, including, in particular the former Soviet-controlled German Democratic Republic (GDR), or East Germany, in the late 1980s and throughout much of the 1990s.
It is squarely within the context of the aforementioned combination of internal progressive political forces and their foreign counterparts that forced the Jerry John Rawlings-led junta of the Provisional National Defense Council (PNDC) to reluctantly accede to the establishment of the politically transitional vehicle that became known as the National Commission for Democracy. The latter vehicle was not the least bit the vintage product of either the generosity or kindheartedness of Chairman Jeremiah John Rawlings or any of his cronies and democracy co-hijackers of the erstwhile Provisional National Defense Council. The democratically elected political party that these veritable terrorists hijacked or violently ousted was, of course, the Hilla "Babini" Limann-led People's National Party (PNP). It must also be clear to most Ghanaians by now, especially those who were either not yet born or too young to be aware of or remember the yeomanly efforts of the progressive forces and the aforementioned brave legal lights, high-powered professionals and brave warriors and seasoned and hardnosed street fighters that either directly or indirectly culminated in what is presently called Fourth-Republican Ghana.
The one good thing about the recent publication of Prof. Kwamena Ahwoi's memoir titled "Working with Rawlings," is that it has opened up a major avenue for the exposure and salutary demystification of many of the of the half-truths and downright fabrications that have been paraded in the dubious name of "Probity, Accountability, Transparency and Justice" by the clinically delusional and self-righteous leaders of the quondam Provisional National Defense Council and, presently, the National Democratic Congress. Ghanaians must also not the least bit be deceived by the dastardly and mischievous attempt by a morbidly uxorious Chairman Jerry John Rawlings to make his wife and devoted partner in wanton acts of political criminality, to wit, Nana Konadu Agyeman-Rawlings, seem like a selfless national development-oriented stateswoman. No such deliberately orchestrated attempt at reconstructive political surgical procedure could be at once more scandalous and morally reprehensible.
Indeed, most of those of us who were old enough and present at the unfolding of the so-called Rawlings' Revolution, from June 4, 1979 onwards, have not forgotten the epic role played by Nana Konadu Agyeman-Rawlings in the savage abduction and brutal murder of the Three Accra High Court Judges and the retired Ghana Army major and former Personnel Manager of the Nkrumah-created and Rawlings-dismantled Ghana Industrial Holdings Corporation (GIHOC). In recent years, the real executors of the Rawlings Revolution, in particular Corporal Matthew Adabuga, have written extensively about the nightmarish event that was both the Rawlings-led coups d'etat of June 4, 1979 and December 31, 1981 to necessitate any rehashing of these apocalyptic events.
In essence, as I have already detailed and highlighted in innumerable columns in both the relatively remote past and very recently, Mrs. Nana Konadu Agyeman-Rawlings is a delirious "Conjugal Megalomaniac" who has been perennially scheming to dynastically take over her husband's former job, as also is the couple's eldest daughter, namely, Dr. Zanetor Agyeman-Rawlings, whose Korle-Klottey parliamentary seat was literally delivered to her on a silver platter by her Supreme Court arm-twisting political predator father, namely, Chairman Jerry John Rawlings.
*Visit my blog at: KwameOkoampaAhoofeJr
By Kwame Okoampa-Ahoofe, Jr., PhD
English Department, SUNY-Nassau
Garden City, New York
August 29, 2020
E-mail: [email protected]