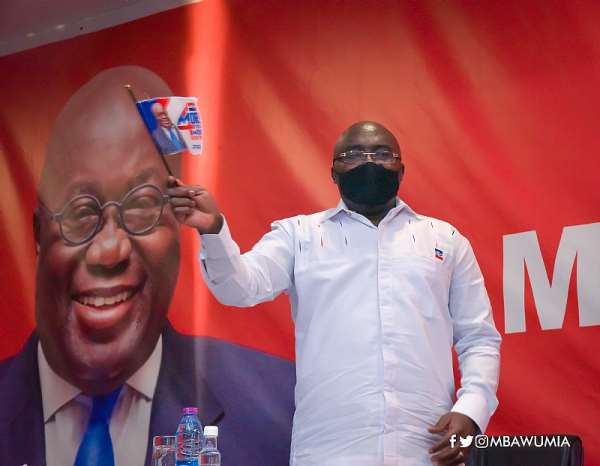 When President John Dramani Mahama and the NDC lost the 2016 general elections, most of us got broken. We got broken not because our party lost, but because we knew that Akuffo-Addo and his NPP used deceit and well-crafted lies to win that election and that they have absolutely nothing superior to deliver. In his last address to the Nation, President Mahama ended by saying "posterity will judge us all". Was it a curse or a Prophecy?
Fast forward in government, the Akuffo-Addo administration was exposed in its early days in power. Most Ghanaians who were cajoled by the artificial persona of Dr Bawunia as created in opposition, were taken aback after his account in their first 100 days in office. His submission reflected a non-serious Vice President and an economic manager who had nothing but mediocrity to offer.
Gearing towards elections 2016, Dr Bawunia and his NPP with their media cabal, some supposed wise men on the pulpit and some bought neutral intellectuals decided to engage in agenda setting, issue-centering and embellished propaganda, so that the issue of infrastructure never was an integral part of the national conversation.
All that mattered to Dr Bawumia and his rented voices were about corruption, borrowing, consumption related issues and some other pedestrian issues that don't matter in economic development but can incite the unsuspecting but gullible Ghanaians against a sitting government.
Interestingly in government, and after changing the narratives on several counts without getting any soft grounds to justify their poor performance in all sectors of the economy, Dr Bawunia has to run back for his notes he prepared in opposition. Notes that were full of jabs and insults at the person of President Mahama. This one too fell flat to his face, because the Ghanaian is much more interested in solutions to their worse economic situations than a VEEP who still see and speak about the ghost of the former President.
Indeed, Dr Bawunia has lost his breath, so he has been running around and looking for the weakest straw to save his ass. The worse case was the choice of the humble but soft spoken Prof Jane Naana as running mate to John Mahama. Dr Bawunia can't speak about the weakest cedi ever in our history; of course he can't speak about borrowing again because what his government has borrowed in 3 and half years is more than what all governments have borrowed from Nkrumah to Mahama. What is there to show for the GHC 140bn borrowed? He can't also insult his colleague running mate to Mahama, because Prof Jane has declared that she won't engage in politics of insults.
John Mahama's government borrowed just about GHC 54bn, and that includes the $94m Pokuase Interchange Project and the $35m Obetsebi Interchange. This amount was what Dr Bawunia and his NPP pooed pooed as gargantuan. With just the GHC 54bn, Mahama had the Harbours, the Interchanges, the Hospitals, the Schools, the Water Projects, the Electrification, the Aiports and several other key infrastructure projects that are strategic enough to propel economic growth and development.
When Mahama commissioned the Kasoa Interchange, Dr Bawunia and his boss told Ghanaians that they don't eat Interchanges. We thought that was enough, but when Mahama commissioned the Ridge Hospital, Nana Addo came to poo poo the project and even told a blatant lie that the cost of the project was inflated. In the end, they told Ghanaians that the hospitals were not important just as the NHIS. When Mahama commissioned his E-blocks, Ghanaians were told by the NPP that those schools didn't exist in reality, but in the end, the NPP government posted they'd Free SHS students to about 45 of those schools.
What all these meant to us was that, Dr Bawunia, Nana Akuffo-Addo and the NPP saw infrastructure as second to consumption. Any wonder they borrowed more and use a chunk of it to invest in consumption related activities instead of investing in capital projects that will propel the economy to grow and throw out sustainable jobs. The Jobs the Accra digital centre alone generated; the jobs the Tema and Takoradi Harbours expansion works generated; the jobs the Ghana Gas Infrastructure alone has generated and many more of the infrastructure Mahama built, are just enough to show for this argument.
Let me ask ooo...why is it that anytime the NPP is looking for someone to lead them to engage in an exercise that has the tendency to dent the image of the party, they will rather opt for Dr Bawunia instead of Kojo Oppong Nkrumah, the Information Minister? The shameless propaganda and image redemption exercise Dr Bawumia was pushed to engage in yesterday, could be the exercise the minister of information should be discussing with Ghanaians and not Dr Bawunia.
What we expect from Dr Bawunia is why the cedi is now changing at almost GHC 6 to $1. At a time he called Mahama names when the same cedi was exchanging the dollar at about GHC 3.62. How do we call him once he now manages our economy? We expect Dr Bawumia to tell us how our international reserves have dissipated so low that we can't even survive 3 months import cover. In fact, what we expect Dr Bawunia and his NPP to be telling the people is how come they borrowed more than all the governments from Independence to Mahama, yet he comes to show us renovated CHPS compounds and renovated two bedroom nurses bungalows as what that much has been used for.
Shamefully, the Vice President has become a political quantity surveyor and a theoretical civil engineer who reads and speak, but can't practically apply anything he speaks about. If not how come a whole Phd holder will look into our eyes and seek to compare a 4 tier interchange to a flyover? Even if the circle Interchange has same tiers as the yet to be completed Point 7 flyover, how can any serious person do a direct cost comparison without looking at common differences in soil components which could mean different earthworks? Ghanaians deserve to have a serious Vice President.
The business community want him to tell them what has happened to the cedi and port charges. We what him to tell what was borrowed was used for. After borrowing much and using a chunk of it to chop kenkey and expensive parties, you just woke up to the demands of Ghanaians, and instead of you to apologize for not continuing the roads, schools, hospitals, etc, Mahama started, you have used their leftover taxes to call your ministers to another showbiz dabbed town hall meeting. We don't need stories, we want the concrete roads you promised; the bank accounts you promised; the water and toilets you promised are what we expect and not empty lectures.
Do we now eat infrastructure?