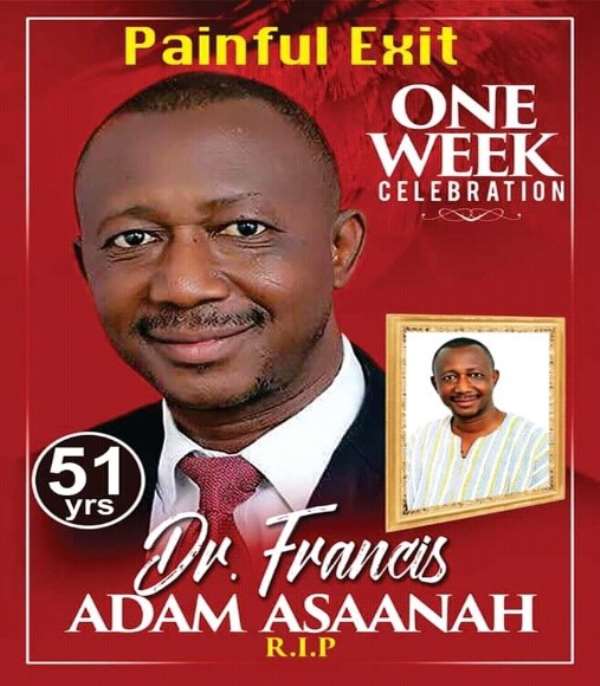 I am in pain; we are wailing; many have lost hope; many have broken down; many are still shocked; your people are still struggling to accept you are no more. Your journey would remain in our lips until the end of time. Since your painful exit in 10th August, 2020, tributes, upon tributes, are pouring in and you have become popular in social media since your journey to eternity. A testimony of how well you lived.
I have never worked with you and have not dinned with you, but the little I know of you Dr. Asaana is enough to inspire generations and generations yet unborn.
You were a good man!
You were a husband to your wife!
You were a star and hope to the widows and old men
You gave the youth a secure and descend job
You allowed the youth to have an education.
You were the lifeline to vulnerable people.
Even when you were sabotaged, you sacrificed to stay in Kusaug and to serve your people. There were attempts to destroy your reputation and professional work. You created opportunities by establishing a chain of businesses including the set up quality FM and Quality Medical Centre in Kusaug. Our health, right to have access to information was significantly influenced by your entrepreneurial ability.
You have chosen a path that empowered young people, developed our communities and redefined the purpose of humanity. To me, you were a philanthropist, top-notch humanitarian, and a leader we may not have in Kusaug.
You did not goodbye us, we never saw your untimely departure, we cannot imagine that you are no more. We are just faced with a reality check. Oh Death. Why?
Indeed, you have inspired many from Bawku to Garu; from Tempani to Zebilla; from Pusiga to Binduri. Your act of generosity is not only within the Bawku enclave but all over Ghana.
We have lost one of the greatest humanity in Kusaug.
You have left an unparalleled legacy.
Your life is a sermon to many.
To me, you were number one in Kusaug!
To the people of Kusaug, you have been one of the greatest son of the soil.
I mighty tree have fallen, but the good news is that it seedlings can form a forest if it is brought together.
Rest Well Our Father, Mentor & Leader!!!
Author; Tahiru Lukman
Youth Activist, Dev't Consultant & Pan-African Author
Email: [email protected]
Tel: 0209154057 / 0551018778