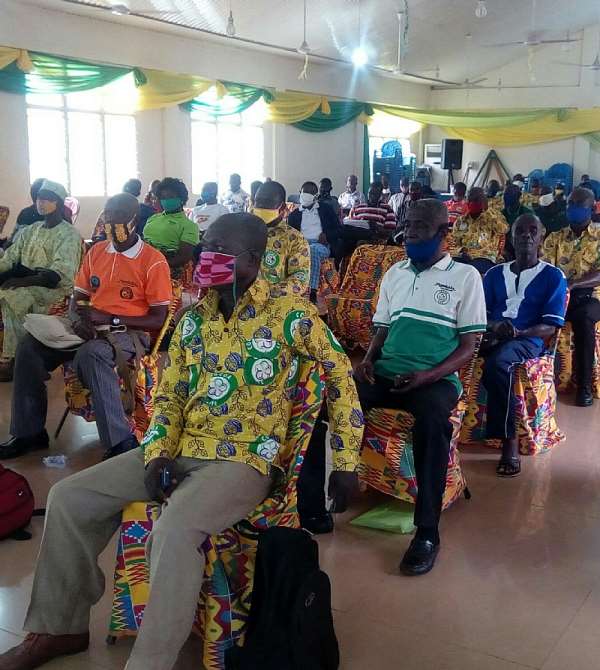 Over 8000 cocoa farmers in the Asunafo North Municipal in Ahafo Region have eulogised government for helping boost production over the years but still have some challenges to be addressed.
This was revealed at the 8th Annual General Meeting (AGM) of the Asunafo North Municipal Cocoa Farmers Cooperative Union at the Assembly Hall of Catholic Pastoral Centre in Goaso, capital of the Region where close to 100 society executives, banking partners of the Union among others were in attendance.
Speaking on behalf of the members of the Union, the President, Daniel Amponsah Gyinayeh popularly called Agya Dan stated that this year the government has supplied 86,000 bags of fertilizers and distributed to the members at the price of Ghc80 per bag with two years payment plan which has uplifted their production as compared to some years back even when fertilizers were for free.
He mentioned that the performance of the people hired by the government to undertake the pollination exercise in the Municipality where the members of the Union reside was excellent as all expect.
He added that the hired persons were always on time to execute their mandate irrespective of what happens indicatin that the rapport between them and their employer was the best.
"We do hear them say government owe them but still they were at post working for us," the Union's President stated.
According to Gyinayeh, the Union was supplied with 2000 devices for pruning, weeding, pollination among others of the farms to make work more easier. He stressed that because the device were in abundance, the Union also hired some people with Ghc550 per head to help government's policy to thrive.
"With all these, we can confidently say with evidence that the government has been good to us," he intimated.
Highlighting the challenges that need to be addressed by the government despite increment in production, the Union's Manager, Patrick Owusu explained persons who destroy the forests in the region must be dealt with since their actions affect the production of cocoa.
In his explanation, targets set by the government on cocoa production always fail because of how forests are been destroyed.
He appealed to government to reconsider the initial agreed payment plan on the fertilizers due to the outbreak of COVID-19.
He mentioned that the novel coronavirus has directly affected their sources of income especially when some parts of the country were partially locked down.
Per records, the Union has given Ghc300.00 each to 435 tertiary students from the municipality, 70,000 exercise books distributed among school pupils, Personal Protective Equipment (PPE) to fight COVID-19 have been supplied to communities among several others.