My Works Won Me Popular Acclamation — Tina Mensah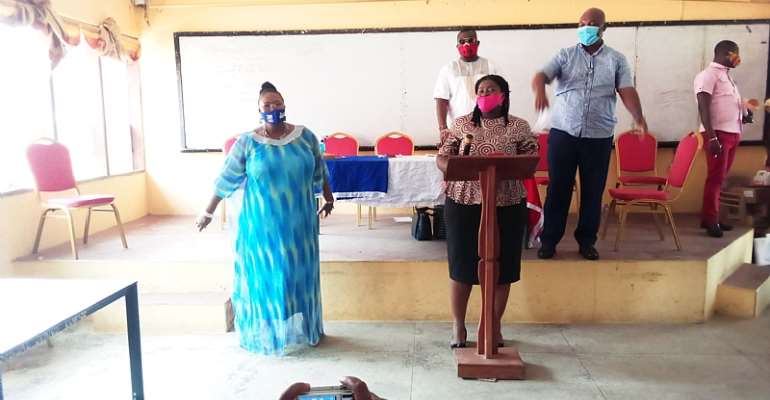 New Patriotic Party (NPP) delegates in the Weija-Gbawe constituency have acclaimed Member of Parliament for the constituency, Hon. Tina Gifty Ayerley Mensah to contest unopposed ahead of the party's parliamentary primaries tomorrow.
The MP, yesterday by popular acclamation ceremony held, was overwhelmingly chosen by delegates as the parliamentary candidate to lead the party in the December polls in the constituency.
In an interview with the Hon. Member, she expressed believes her good works won her the reputation.
"I become expressionless when asked of my works as an MP within the four year period, because it's overwhelming," she said.
According to her, she has secured over 2,000 jobs for the youth in the constituency, initiated four CHPS compound in the constituency, donated desks, computers and improve teaching and learning by motivating teachers to enhance quality education in the constituency.
Those contributions were recognized based on her support to the grassroot of the party and the general constituents at large.
"Prior to my election as an MP, majority of the youth were unemployed, with hope that I will secure them jobs. I never thought I could secure up to even 200, but God being so good, I've been able to secure over 2,000 jobs for the youth in my constituency."
Out of the four CHPS compound, one is fully completed, two at different stages of completion, and one yet to commence, as a result of the unavailability of land for the project.
As part of improving the health sector in the constituency, she says, she has equipped the health facilities with modern health equipment to aid health delivery.
In addition, she improved security by providing motorbikes and other security equipment to security personnel including fire fighting equipment to the fire service to aid them in their work.
"My works within this four year period is enormous and am grateful for the confidence imposed in me by delegates to lead our party, the NPP as the parliamentary candidate for Weija-Gbawe constituency for another four year term to deliver developmental projects for the well-being of constituents."
She however, urged delegates to consistently adhere to the safety protocols to contain the spread of Coronavirus during the primaries held across the country on Saturday.