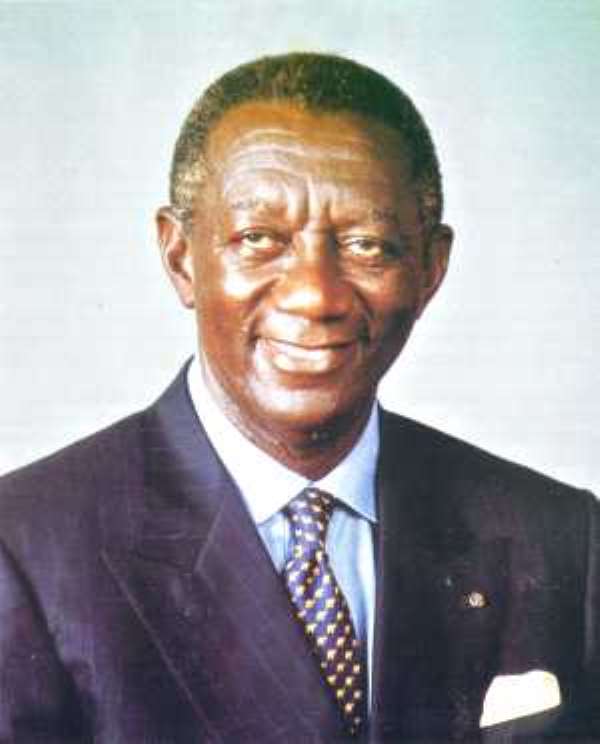 Ghana's bauxite industry is being given a massive boost with a close to two billion dollar Alumina Refinery Plant investment by Alcan Incorporated, a giant Canadian bauxite company.
The Plant would have the capacity for refining between 1.5 million tonnes and 2.0 million tonnes of bauxite annually.
The investment comes as a reward for the country's growing economic and political stability.
President John Kufuor described the development as positive for the national economy, saying: "This is what the time asks for."
Speaking at the Castle, Osu, - the seat of government - before the signing of a Memorandum of Understanding (MOU) between the Ghana Government and the Company for the development of a bauxite-mine and the refinery, he said he was happy that Alcan, after operating in the country for the past 60 years, mining bauxite ore for export, had decided to add value to the mineral.
The Vice President and Chief Operating Officer of Alcan Incorporated, Dick Evans, said they were pleased to be partnering with Ghana to explore the development of the country's extensive, high-quality bauxite reserves.
"Ghana has emerged as leader in economic and political stability in Africa, which has created opportunity for considering investments of this scale that would benefit both Alcan and the Ghanaian people."
He said his Company was committed to ensuring that it lived up to its social responsibility and the sustainable management of the environment.
Ms Jacynthe Cote, President and Chief Executive Officer of Alcan Bauxite and Alumina, said for the past six decades they had been contributing directly to the country's economy and social development.
"It currently holds an 80 per cent stake in Ghana Bauxite Company Limited, through which it has enjoyed a very strong partnership with the Government, which owns 20 per cent, since 1974."
She said given the Company's track record in the country, its high sustainability standards, expertise in developing first-rate projects, coupled with its world-class technology and engineering know-how, it was suited to develop the Nyinahin bauxite reserves and low-cost refinery.
Attorney - General and Minister of Justice, Joe Ghartey, signed the document for Ghana, while Ms Cote, initialled for her Company.