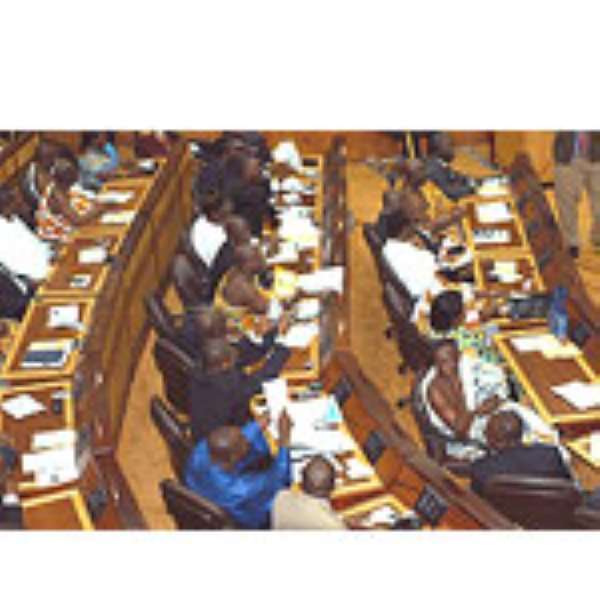 He said the Committee needs to regularize its procedure and position itself to conduct independent checks on ministerial nominees in order to avoid giving approval to persons, who did not qualify, to hold public office.
Mr Ossei-Aidooh was seconding a motion in Parliament moved by Mr Freddy Blay, Chairman of the Appointment Committee for the adoption of the Committee's Report on the nomination of 16 Ministerial and Deputy Ministerial appointments.
Mr Ossei-Aidooh made particular reference to the Committee's rejection of Mr Lawrence Akwasi Prempeh, who was nominated for the position of Deputy Ashanti Regional Minister.
He said given the circumstances surrounding the rejection, some Ministers of State currently serving in the Government might not have been given the nod had the Committee had the chance to conduct such thorough investigations.
Earlier, Mr Freddy Blay, presenting the Committee's Report to the House, said the "Committee is unable to recommend the nomination of Mr Lawrence Akwasi Prempeh to the house for approval on grounds of his dual citizenship".
However, based on the recommendations of the Committee, the House approved the nominations of Mr Francis Poku, as Minister for National Security; Mr Joe Ghartey as Attorney-General; Miss Gloria Akuffo as Minister of State, Aviation; Mr Kwadwo Adjei Darko as Minister of State, Office of President and Mr Stephen Asamoah-Boateng as Minister for Local Government, Rural Development and Environment.
Others, who received approval were Mr Emmanuel Owusu-Ansah as Ashanti Regional Minister; Mr I. Baffour Awuah as Brong-Ahafo Regional Minister; Nana Ato Arthur as Central Regional Minister; Alhaji Mustapha Idris as Northern Regional Minister and Mr Anthony Amoah as Western Regional Minister.
The rest were Mr Kwame Osei-Prempeh as Deputy Attorney-General; Mrs Oboshie Sai-Cofie as Deputy Minister for Information and National Orientation; Mr Joe Baidoe-Ansah as Deputy Minister for Tourism and Diasporean Relations; Mr Kwadwo Kwakye, Deputy Regional Minister, Brong-Ahafo and Mr Kwasi Blay, Deputy Regional Minister, Western Region.
Mr Doe Adjaho, Deputy Minority Leader, in his contributions to the debate for the approval of the nominees, took issue with the said Appointment Committee, saying the Committee had no right to vet Mr Francis Poku in-camera without seeking the mandate of the entire House to do so.
The Deputy Minority Leader urged the new Attorney-General to abide by his promise to abide by the oath of the legal profession. He said Mr Ghartey had told the Committee that one's first calling as Minister for Justice was to the legal profession to which one had sworn an oath and not to politics because politics was a passing phase and one needed to abide by principles to succeed.