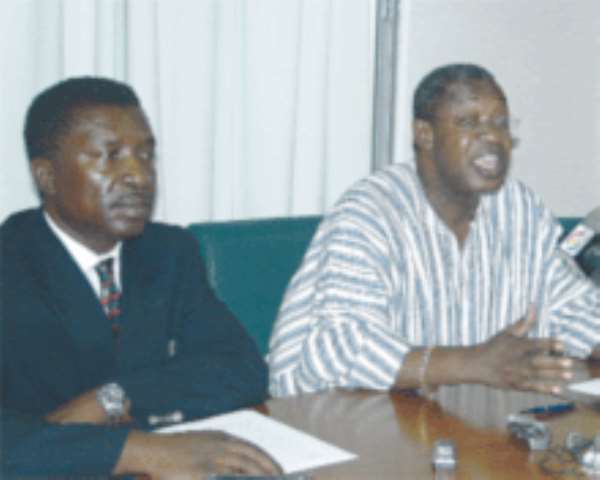 Employers of health professionals in the country have given the assurance that the new salaries and two months arrears of the health sector workers will be paid at the end of this month.
After the salary payment, an appellate body shall be constituted to receive all complaints, to be resolved on time for the next round of payment.
It is expected that all anomalies associated with the adjustment will be rectified by the end of the year. Also the rest of the arrears will be paid within two months.
The Director General of the Ghana Health Service, Professor Agyeman Badu Akosa, flanked by Professor Kwabena Frimpong-Boateng and Dr Anthony Nsiah Asare, Chief Executive Officers of the Korle Bu and Komfo Anokye Teaching hospitals respectively, gave the assurance at a press conference in Accra yesterday.
They have, accordingly, appealed to the striking doctors to return to work immediately while efforts are being made to address their grievances.
"The strike action is affecting children, men and women who have no role in the resolution of the present impasse," Prof. Akosa stated, and entreated all staff of the health sector to exercise a little bit of patience and restraint to enable the new system to work.
Prof. Akosa explained that there was so much disinformation in the public domain that the chief executives decided to set the records straight.
He said normally the new salary would be paid and a reasonable time allowed for all corrections to be effected before the arrears were paid in order to avoid any further problem.
"The government, however, has shown considerable magnanimity in agreeing to pay one- third arrears with the June salary," he added.
Commenting on the case of house officers not having been paid any salaries since November 2005, he stated that all new employees went through "a period of no salary" until financial clearance was obtained from the Ministry of Finance and Economic Planning.
Prof. Akosa said the hospitals had always provided contingency funds and offered the house officers some allowances in lieu of salaries and stated that the circumstances had not changed.
"In the case of the Komfo Anokye, 38 of the 41 house officers applied and were paid their allowances. At the Korle Bu Teaching Hospital, only three out of the 95 house officers applied for salary advance," he explained.
Prof. Akosa said the two teaching hospitals and the GHS were all sensitive to the plight of the doctors and were doing all they could to improve their conditions.