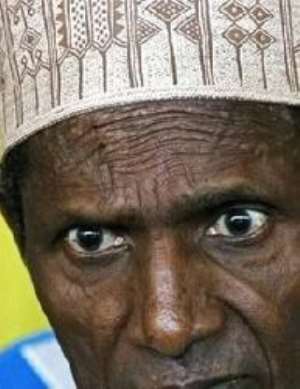 Yar'adua wake up! Nigeria is boiling again. This time around it is Covid-19 that is tranquilizing the citizenry and the elites are dying like fowls.
Yard'adua the last time we spoke was in 2015, after I briefed you on how your kinsman Buhari defeated your brother jonathan in the presidential polls. That last time I updated you on how the Boko Haram which you destroyed in Maidugeri in 2009, suddenly became so strong that they bombed the United Nations building in Abuja, bombed the Nigerian Police Force Headquarters in Area 11, bombed the ever busy EMAB plaza Wuse 11, bombed the multipurpose Nyanya Park and killing thousands of people in the process. They even bombed the Catholic Church in Suleja on Christma Day, killing over seventy persons.
Yar'adua I also briefed you in the Part 3 of our discussion that the same Boko Haram you got their leader, Mohammed Yusuf, arrested in Borno, and destroyed their base, reorganized and became so powerful again that they took over all the indigenous Chhristian dominated terriories and local governments in Borno State including Gwoza, Damboa, Gamboru, Ngala, Mubi , Biu and even Chibok. I told you that the Jihadists kidnapped over 250 school girls from a christian dominated secondary school in Chibok and have used Jihad of the penis to send most of them to death.
Yar'adua ! wake up because the last time we spoke I told you that your brother Jonathan was ousted out of office by the combined efforts of Buhari, Atiku , Obasanjo, Barrack Obama and David Cameron . Yar'adua, I must confess , I did not support the re-election of your brother, Jonathan contrary to your advice.
Yar'adua wake up because the Nigeria you tried to unite has been so much polarized along ethnic lines that implosion can take place anytime. The electoral processes you promised to make better, is not yet uhuru, even though it is far better than the 'Do or Die ' Electoral process of your godfather, Obasanjo.
Yar'adua wake up because the oil blocks your predecessors fraudulently awarded to friends and well wishers without due process, which you decided to revoke, was given back to these corrupt owners by your brother, Jonathan , and your kinsman Buhari has not been courageous enough to fight the cabal holding the industry hostage and retrieve our national wealth.
Yar'adua wake up because the corruption fight you launched in 2007 by accusing your godfather Obasanjo of 'wasting down the drain' N1.7 trillion naira on power without any result, was jettisoned by your brother Jonathan,and a free buzz of national cake ensued. Your kinsman Buhari who promised to wipe off corruption have failed to live up to promise, because the corrupt cabals are staring at him daily in Aso Rock.
Yar'adua wake up because though you sacked Service Chiefs in the military during your era, your kinsman, Buhari, had refused to sack his tired and long overdue service chiefs despite the groundswell of public opinion against them.
Yar'adua wake up because your Fulani herders kinsmen who respected themselves during your tenure, have overreached their boundaries , roaming about with AK-47'S , raping, maiming and killing, all in an attempt to secure farmland, and your kinsman, Buhari , is too weak to stop them.
Yar'adua wake up because while you had appreciable peace with your deputy and brother Jonathan, your Buhari kinsman's deputy, Osinbajo, has been maligned, abused, stigmatized and traumatized by agents of the opposition working for cabals within the Villa.
Yar'adua wake up because the attempt to poison and kill your kinsman Buhari, failed because they rushed him to a hospital in London, and the British establishment gave him the best medical care. Had you been rushed to London or Germany, as we advised, maybe those that infiltrated the Royal Hospital in Saudi Arabia, wouldn't have succeeded.
Yar'adua wake up because the Enugu Airport you declared of International status, was not fully upgraded in landing equipment, and is currently under lock and key and everlasting renovation.
Yar'adua wake up because the cement monopoly you took away from Dangote, and handed Ibeto back his share of the business, have returned to the statusquo.
Yaradua wake up because your kinsman Buhari we supported in 2007 against your candidacy, and supported again in 2015 against your brother Jonathan, has been declared dead by the leader of IPOB, Nnamdi Kanu
Yar'adua wake up because these people claim that one Jubril from Sudan is in charge in Aso Rock even though we know that the postulation is the height of speculative orgasm.
Yar'adua wake up because the rule of law mantra you introduced has suffered some few setbacks. Even the leader of the Shi'ite Movement, Sheikh El-Zakzaky is still in detention with his wife and being fed with food worth N1 million naira every year.
Yaradua wake up because the Covid-19 palliative, yes! Covid-19 is the name of that sickness killing elites like chicken. The Covid-19 palliatives have been turned by three powerful women in your Kinsman, Buhari's cabinet into a multi billion dollar national cake competition, and your kinsman's wife, Aisha, Senate President, Lawan and Speaker, Gbajamiala, have been shut out from the banquet table and those women are not looking at their grumbling faces.
Yar'adua wake up! Why did you die so soon!
I will always remember you, because I know that you sincerely kick started changes in Nigeria but didn't live long enough to implement it. You refused to be manipulated by Obasanjo or Babangida while in office. You were a socialist to the core!
However, God knows the best and why yo left so soon!
Rest in piece –Yar'adua! The best President of Nigeria so far.
(Obinna Akukwe , Columnist wrote via [email protected] , facebook.com/obinnaakukwe, @ObinnaAkukwe)