Baba Jamal Bites - Top Producer Banned, 2 Others Fined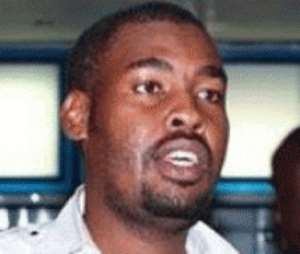 Abdul Salam Mumuni
Prominent movie producer, Abdul Salam Mumumi of Venus Films has become the first victim of Deputy Information Minister Baba Jamal's determination to make sure that the rules of the Ghana Cinematograph Exhibition Board of Control are followed.
Sitting as chairman of the Cinema Control Board last Thursday, Baba Jamal banned Abdul Salam for one month during which no movie of his would be previewed, released or exhibited. He was also fined GH¢2,000 for releasing a pornographic movie, Dirty Secrets in February this year without first presenting it to the Board for preview and classification.
Two other movie producers, John Dada popularly known as Double D who released My Husband's Funeral and Diamond Films who released Princess Thyrone were also fined and cautioned over similar offences.
Abdul Salam himself was out of the country but Showbiz sources say that representatives of Venus Films were present at the Ministry of Information last Thursday when the sanctions were announced and although they pleaded with the Board to forgive them, their pleas could not change the decision.
As reported in the Showbiz of February 3, this year, Dirty Secrets was presented by 's outfit for preview in December. When a panel of the Board saw it, they found some portions of the movie unwholesome and advised the producer to take it back and edit those portions before the movie could be put out on the market.
Obediently, the producers went away and returned days later with an edited copy of the movie which was subsequently classified as A (for adult viewing) and passed. But before the classification certificate could be issued by the board, copies of Dirty Secrets were already selling like hot aboloo on the market and these copies were not the edited version. These ones contained all the unwholesome portions of bouts of sex, incest and sodomy that the Board had recommended to be removed.
Confirming the ban to Showbiz, Ken Addy, member of Ghana Cinematograph Exhibition Board of Control who was present at the meeting together with Socrate Safo, spokesperson for the Film Producers Association of Ghana (FIPAG) and a host of other producers and distributors, said the ban took immediate effect from last Thursday. He expressed the hope that the sanctions would deter other producers from flouting the rules of the Ghana movie industry.
When the movie came out in February and Abdul Salam was contacted, he told Showbiz over the phone that he did not produce the film himself and that he only acquired the rights to distribute the movie in Ghana from a Nigerian producer. He expressed his regret over the matter and said he had ordered all remaining copies to be retrieved from the market.