Wayoosi Cries Foul Over Costume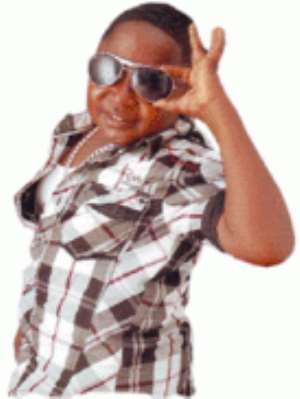 Kumasi based actor, Wayoosi. (aka, Joseph Osei)
For crying foul, popular Kumasi based actor, Wayoosi, may find himself out of job unless his long-term producer shows him mercy and re-instate him in his movie cast list.
Wayoosi (aka Joseph Osei) courted trouble when he "rebelled" on set recently over costume that he found to be dirty and smelly. "If I am asked to wear clothes or costume which stinks and likely to give me catarrh, shouldn't I complain about it?.
"I think we need to face the facts; some of the clothes we wear in movies are not washed for several weeks. They are used several times over but no one thinks of washing them", Wayoosi told Graphic Showbiz on Monday.
Earlier on Saturday, Wayoosi's producer and film director, Jackson Kwaku Bentum had spoken to radio show host Dr Cann on Happy FM's Showbiz Extra and disclosed that the foul costumes were meant to portray reality in his movies. "If someone is playing a mad man, for example, we cannot put him in costume that is clean, can we?", he said.
Jackson seemed to have been fed up with Wayoosi's behaviour lately. He told Graphic Showbiz that he could no longer work with Wayoosi because he had "grown wings". "This attitude started about three months ago. Wayoosi would complain of any costume given to him for a movie shoot," the producer said. According to Jackson, other producers have had similar behavioural problems with Wayoosi.
He told Graphic Showbiz that Wayoosi, whom he discovered and nurtured since 2003, had been obedient to him most of the time and so wonders when he picked up the bad attitude. Jackson recalled times when Wayoosi had lied to him that he was on set shooting only to later find out he was in Accra doing his own business. "I have monitored him for quite some time and now I am convinced that he's really grown wings," Jackson said.
As if that is not enough, the costumier Micheal Amoah also told Graphic Showbiz that Wayoosi was always slowing down production by complaining of clothes given to him. He said there are other actors who used those same clothes and never complained but Wayoosi always had problems with whatever was given to him.
But Wayoosi held a different view. He told Graphic Showbiz that the treatment from his producer was not fair and any other person would act the way he did. "It is a fact that Jackson has really helped me in so many ways; in fact, he is my godfather. But if I feel I am not comfortable with a role, I have the right to say so," Wayoosi said.
The next moment he was apologising: "I wish to use this opportunity to apologise to Jackson, my mentor, and clear the air that I am respectful and I'm willing to do anything I am told," Wayoosi said. "I plead for forgiveness. To err is human and to forgive is divine."