Annie Macaulay, Ibinabo, Jimmy Jatt Storm Miss Global Nigeria Camp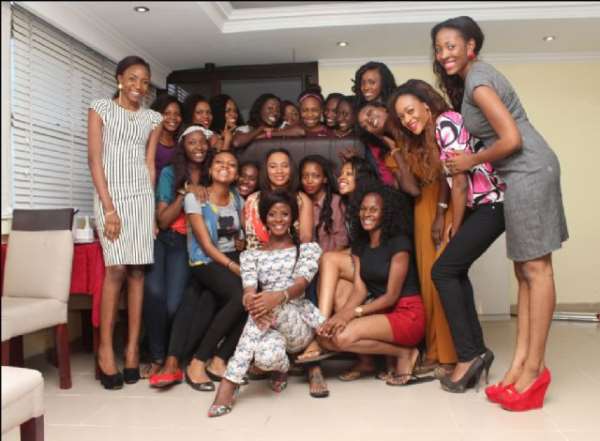 Just like the organisers of the prestigious Miss Global Nigeria (MGN) promised that the 2013 edition of the event will be fun-filled and special, they fulfilled that promise.
It was all fun yesterday for the contestants of the beauty pageant, who are presently in camp, as notable celebrities hidden in an arena, made dramatic entrances into their midst. The girls couldn't but show excitement as they embark on the task of a guess game to name the particular celebrity who had been waiting to welcome them for the seven days camping adventure.
While they were still searching the nooks and crannies of the fabulous apartment located on the 8th floor, another celebrity walked into the shot by alighting from the lift.
The girls were all smart to get the drift as they all continued with the search, after shouting, screaming to welcome the emergency one that alighted from the lift, they knew there was somebody else they needed to 'smoke out' somewhere somehow.
At the end of the day, one of the girls, saw Africa's No. 1 DJ, Jimmy Jatt where he was hiding and got the prize of being the Head of the House while the lady that got the name of the second guest right, Ibinabo Fiberesima, the first female president of the Actors' Guild of Nigeria (AGN) was named the Deputy Head of House.
Aside DJ Jimmy Jatt and Ibinabo Fiberesima, other guests that have visited to keep the girls company are Mrs. Annie Macaulay-Idibia, Titi Aboyade-Cole, who is an international talk show host of Podium Events fame.
All these they got in just the first day at the camp. There are lots of surprising packages as top celebrities are already on the line up to keep the girls company.