The Wife Battery Scandal: My Mother Terrorized My Father, - Nelson Wigwe (Son)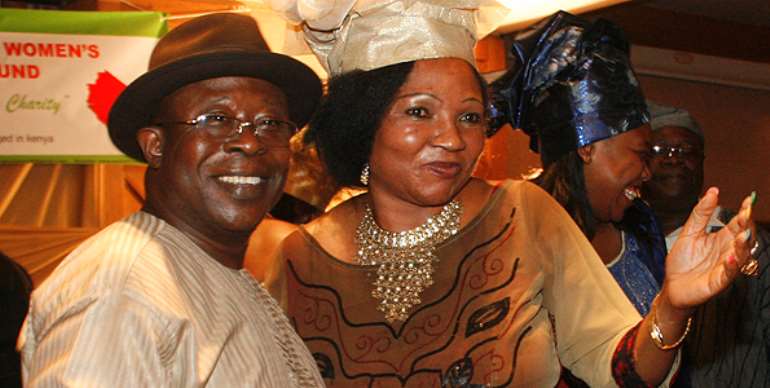 First of all let me say how angry, sad and disappointed I am at the public who have already ridiculed my father H.E Dr Chijoke W Wigwe without hearing all the facts. Without talking to the people who were there, without talking to the people who know him best. Without talking to the people who know H.E Tess Wigwe and know exactly what she is capable of. For days, I have been holding back information because my mother H.E Tess Wigwe is the woman who bore me, the woman who raised me, and she is the woman who has provided for me my whole life. But with that said I cannot sit back and allow her to ruin my father's life and disgrace Nigeria like this. Now before I continue I think it's crucial that you know a couple of facts. I have lived with my Mother my whole life. I have never and will never put anyone before her. So if you're stupid enough to think that I will lie for my father against my Mother? You are sadly mistaken.
On May the 11, I was in my bedroom lying down listening to music when I heard a loud commotion coming from my mother and fathers room. I heard my mother shouting telling my father "I cook food for you and you don't eat" I thought nothing of it because my mother and father argue a lot, so I ignored it at first. But then the commotion got louder. That's when I left my room to investigate what was going on. When I arrived, I found my mother and father arguing in the hallway. My mother was yelling at me "look at my face, look at what your father did" I looked at my mother's face and she had some cuts and small amounts of blood on it, her face was nothing like those horrific pictures that we all saw in the star on May the 26 2011. I tried to calm my mother down and I escorted her into her bedroom to clean her face. I took a face towel and soaked it with dettol and tried to clean her face but she refused. "No" my mother shouted "I want to show everyone what your father has done, I want the press and everybody to see". I mean she was not complaining of any pain, she was not holding any part of her body in pain. She was not dazed or confused apart from the small cuts, she was fine.
My mother told the star that "she was rescued by her 20 year old son and her 23 year old daughter" but that's a lie because I found them arguing in the hall. My mother also said in the same interview "He grabbed me by the hand and when I tried to pull away, he hurled me against the wall and started punching me" But when I arrived at the scene I saw my mother and father having an argument, like all husbands and wife's have now and again.
So after my mother refused that I should clean her face. She incredibly asked me to look for her camera. She said and I quote "Nelson look for my camera, I want people to see what your father has done, I want everybody to know what happened even the press" to say I was shocked was an understatement, my mother claims that my father "battered" her but yet here she is, looking around for her camera, instead of telling me to take her to hospital. Could it be that my mother is lying?
She eventually found her camera and phoned her friend to come and pick her up. My mother then went outside of the house to wait for her friend. On the way out my mother took photos of her face. My father locked the front door because at this point my mother was shouting at the top of her voice, saying, "I will finish you this Chijioke Wigwe, and you shall see what will happen"
She also mentioned my father's term, and mentioned that the possibility of any future opportunity for him, she will destroy. As she waited outside for her friend to arrive, my mother was shouting wild accusations at the top her voice. "Your father sleeps around with woman; your father is an evil man" My father was furious with these accusations and unlocked the door to confront my mother but I held him back. My mother continued to disgrace herself by shouting " Chijoke Wigwe you are not fit to be Ambassador, you are a coward, your mother is a whore, I will finish you here in Kenya, mark my words"
At this point, me, my sister, the chef and the security man, are all trying to calm her down, but she was continuing to shout and trying to fight. My nephew was also there, who is a small child, but It didn't seem to bother her that he was witnessing the argument. She continued and my sister begged with her to stop for the sake of her son. It was not long after this point that she went looking for bricks and pot plants that are located around the residence. She picked up a pot plant and tried to throw it. My sister stopped her and the contents were spilled all over her as a result. When that didn't succeed, she eventually picked up a brick and hurled it at the window. Twice. Eventually shattering it. This is the person who claimed to have suffered injuries including severe back pain. So, how, therefore, did she manage to hurl large objects and break our security windows?
She eventually calmed down, and that was when her friend came. My father then left the house to see who had arrived, and told the person to just leave. They drove away.
Maybe everyone is confused as to why my Mother would do something like this.
Before my mother left London, it was agreed that every month my Father would be using a large portion of his allowance to pay her mortgage. That means that for the past two and a half years, my Mother has been sending that money to London to pay her mortgage for her house. Problems entailed when she realized that the so called trust worthy person was in fact keeping every cent of that money. So, as we speak, she is in serious debt.
I cannot stress the amount of times that my mother has been worrying about the repossession of her house in London, due to the theft.
When it comes to money, my mother is like a lioness protecting her cub. She will stop at nothing to try and make up for the loss of that money.
Including, but not limited to, lying to my father, and the embassy. Saying that things in the house were broken or needed repair, receiving the money for it, then keeping the money to herself. Despite the fact that there is never any food in the house, which she receives a large amount each month for, she managed to pay for a plane ticket for her old friend from England to arrive here. This now being the new person entrusted with the payment of her mortgage.
Yet, despite this expensive plane ticket, and the sheer thousands of pounds that are sent back to London, our Nigerian residence here, is somewhat of a joke. The five security dogs that we have here, who are Rottweiler's by the way, are all suffering from malnutrition and some are starving.
She receives around 20,00ksh for these dogs, yet a mere 3,000 is what is used per month to feed these large animals. Instead of a diet of meat and protein, they receive rice!
My sister has been here since April from the US. When she arrived, true to my mother's nature, she started once again into a long ongoing fight with her. Banning her from using the car, making her and my nephew take taxi cabs and finally telling our chef he is not allowed to prepare food for her! My sister even had to use her American bank card just so she could eat!
The same thing happened to me in 2008, when I myself arrived with her from London. Not allowing me to use the car, or buying food. I was even accused of conniving against her with an old lady that was brought here from a village in Nigeria to work on the residence. Now, bare in mind this is a small woman in stature, and also quite feeble. This woman was battered by my mother as she accused her of turning me against her.
She then ordered that the woman not be allowed to eat, or drink at all. I remember secretly making a meal for her as I felt bad, but she came in and saw me and an argument ensued. After everything that this woman was put through, which for her was hell, she was then made to leave. The other staff members have followed the same fate. Some have lost their jobs other were merely fired, based on the fact she thought they were stupid.
Prior to her arrival most of these people had their jobs for a long time. An example was a man called Ibraham who was not only my father's driver but a driver to many other diplomats before him. My Mother was actually jealous of the close friendship they had. So, next thing we knew, he was fired. Most if not all of our current staff all work in fear of her.
In my 20 years of existence, I have actually never once witnessed an act of unkindness from my father.
My mother on the other hand, well, this is the woman who I have the worst memories of growing up. Especially concerning my sister.
Which is why I'm disgusted at the hypocrisy of her "battered woman" claim.
There were many times when I would witness her picking on and beating my older sister, then I would write letters to her and slip them under her bedroom door as I heard her crying on the other side. I will never forget that.
At 16 she was kicked out of the house, and my mother will deny doing so to this day, even though we ALL witnessed it. In London, when my sister was pregnant at 24, I have never seen such evil behaviour towards her. We all thought it would get better, but it didn't. A great example of this is when we had a small mouse that used to always appear now and then, in the kitchen.
Although heavily pregnant and working at the time, my mother ordered my sister who was tired, and going through bad bouts of morning sickness, to clean the mouse droppings. When she asked if I could do it she was told, no and an argument ensued and she was almost made to do it. My sister stood her ground and refused.
She would also spray air freshener in the room my sister was staying in, although she knew certain smells were literally making her sick. As a result, my sister not only left my mother's house, although she had nowhere to go, but she went all the way to New York, 6months pregnant with about 30 dollars to her name. She even had to ask her GP for permission to travel as she was so heavy at that point.
As for my Father, on top of NEVER raising a hand to any of us, He has literally supported us in any way he can.
My sister used to live with him in New York and study fashion and photography. He used to also pay her rent in California just because she was unable to work. He has paid for even our brother's girlfriends to come and visit in New York and elsewhere. He has always let us have our friends over and used to take us out to the cinema, to the park, to play, and to watch us at our sports games for support.
My mother wouldn't even let friends of ours in the house. My Father is loved and she has always hated that. She never understood why people didn't take to her the same way. It never occurred to her that the way she treated people would have an effect on how they saw her.
His kindness extends to his staff and they all reap the benefits of this. He never thought himself higher than anyone else and for this, his staff always received respect from him despite his powerful positions.
My Father's good nature has influenced us all. His love for music, has influenced all of us. His love of the arts, has brought out a brilliant talent in my sister which he has always encouraged and nurtured. He would wake up every day and put on Bob Dylan and listen to classical music.
We have fond memories of him listening to his music, dancing and even making up his own lyrics to make us laugh.
He is kind and very funny and even though my nephew has not been here long, Grandad is the one he runs to whenever he would return home.
After events, he would come home, sit down with a small glass of whiskey and tell us interesting stories. He never raised his voice or yelled at us. He was always calm and peaceful. This is his true nature. Not the barbaric monster he has been made out to be. One of my brother's got wind of the news in London and called him crying, and devastated. We all are. This is not the father we have grown up to, love and adore. It hurts us to see such mean things said about him.
I haven't even lived with my Father my whole life. Yet, the times that I was staying with him due to his occupation, were some of the best times and memories of my life. Like Warsaw Poland, Manhattan in New York, and then here in Nairobi, Kenya.
I have lived with my mother my entire life, so I hope it's understood the difficulty in me writing this letter. But, I must do it. For the sake of my family, for the sake of Nigeria and the reputation my father has worked so hard to achieve.
But the truth must be known to all not just me.