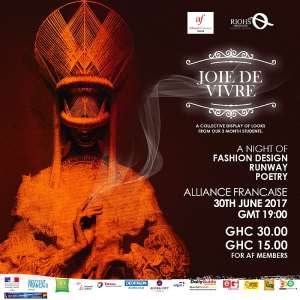 One institution that has ensured the showcase of fashion brands locally made in Ghana is the Dzorwulu based Fashion Guru and 2016 AFROMA Award Winner, Richard Ohene Sika's, Riohs Originate Fashion School.
Riohs Originate Fashion School provides services and training for individuals/organizations that value their image, style, colour and insist on promptness, accuracy and consistency.
It is therefore not surprising to acknowledge that this noble fashion design school is the headliner for this year's edition of the JOIE DE VIVRE which comes off at Alliance Francaise in Accra.

Riohs Originate presents to you JOIE DE VIVRE on 30th July, 2017 at Alliance Française Accra at 7:30pm.
JOIE DE VIVRE is a 2-hour exciting event that brings together fashion, poetry and live music blending colours and cadence to celebrate the evolution of style, diversity and heritage as influenced by creativity and culture.
Uniquely cut and stitched patterns stylized into leading-edge costumes by RIOHS Originate's 3 months fashion design students will be catwalked by the designers themselves; the idea is to explore how the Creatives "embody" their own art in full spirits of charisma to connect with the audience.
Rate : ¢30.00 Adults, ¢15.00 for AF students and Cultural Members, FREE for children under 12.
As charged with beautiful poetry by talented word artists and live music magic, the show promises a lively runway communicating unique lifestyles and a desire for self-expression under the theme;
INNOVATIVE ELEGANCE! The show is directed by Abdul Karim Hakib of vagina monologues fame.
Globally, fashion has gained acceptance as an artistic and cultural pursuit as it springs precisely from the intersection of cultural dissemination and influence, like poetry.

Riohs Originate was founded in 2010 by Richard Ohene Sika- a writer, singer, fashion designer and talent manager, which has been the driving force behind numerous citizen-centered and educational initiatives.
Richard's original vision was to offer the general public the chance to take high quality arts courses by distance learning, without prior qualifications or restrictions. He saw Riohs as a means of transforming people's lives, giving them the opportunity and skills to express their creative talents under the guidance of professional artists.
Today, Riohs Originate is a thriving creativity enhancement institution whose charitable purpose is to widen participation in arts education. Countless students each year now study creative and visual arts by open learning with us.
Visit us on:
Facebook: Riohs Originate
Twitter: Riohs Originate
Contact: WhatsApp Line 0248 32 36 69
Phone: 0248 32 36 69