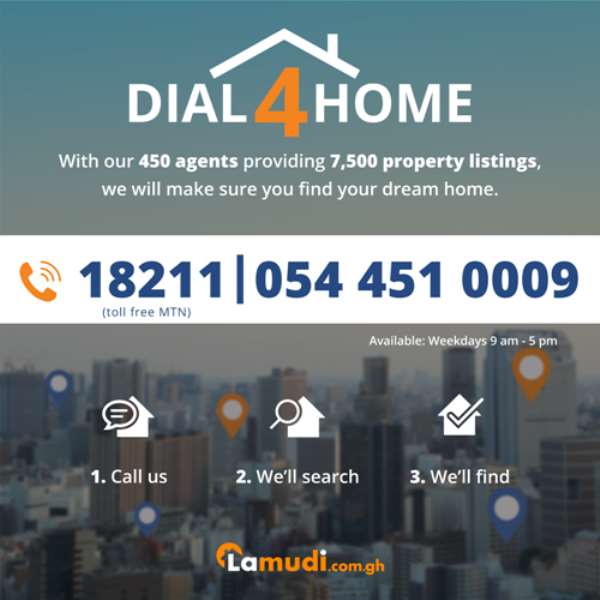 Visit: www.lamudi.com.gh
ACCRA, MARCH 31, 2015: Online real estate portal Lamudi has launched Ghana's first toll-free real estate hotline to cater to the needs of offline property-seekers in the country.
The Dial-4-Home hotline is an innovative service that is designed to improve property search in Ghana while ensuring that house-hunters without internet access are provided with the necessary information to find their ideal home.
The hotline is available free of charge to MTN subscribers and it is also accessible to individuals on other networks for a small fee.
Property search has changed rapidly in Ghana over the years. From the days of scouring town in search of property to the advent of real estate agencies, property search was given a further boost when online real estate marketplaces launched in Ghana.
Internet real estate classifieds have enabled house-hunters to identify their property of choice from the comfort of their arm chair. According to the National Communications Authority, Ghana's Internet penetration rate is a little over 59 percent. However, there is still a significant portion of the population without Internet access who are not yet able to take advantage of these online services.
The Dial-4-Home service is expected to bridge this gap and enable the offline community in Ghana to gain access to information that is currently listed online.
Akua Nyame-Mensah, Managing Director of Lamudi Ghana, highlighted the importance of online transactions in Ghana but said there was still a high number of individuals without Internet access. She said the Dial-4-Home service was designed to complement Lamudi Ghana's online services.
"The provision of online services will remain our priority. However we do know that a large chunk of the population in Ghana is without Internet access. Dial-4-Home aims to give these offline property-seekers access to the wealth of real estate information that is currently available online, equipping them with the best resources to find their dream home," she said.
Dial-4-Home is the latest in a string of innovative products introduced by Lamudi. The company has incorporated a chat widget on its website to improve customer service. The live chat enables property seekers to speak directly to a Lamudi Customer Service Manager who can assist them in their property search.
Visit: www.lamudi.com.gh
ABOUT LAMUDI
Launched in 2013, Lamudi is a global property portal focusing exclusively on emerging markets. The fast-growing platform is currently available in 32 countries in Asia, the Middle East, Africa and Latin America, with more than 800,000 real estate listings across its global network. The leading real estate marketplace offers sellers, buyers, landlords and renters a secure and easy-to-use platform to find or list properties online.
ABOUT AIG
Africa Internet Group introduces and accelerates the online shift in Africa – for its people and its culture. It is committed to running successful and vibrant internet companies which boost the evolution of African online culture. AIH is the parent group of nine successful and fast-growing companies in more than 20 African countries, accounting for over 3000 staff. AIH cares about entrepreneurship and brings together all the key elements required to build great companies: team, concept, technology and capital. Its network of companies includes JUMIA, Kaymu, Hellofood, Lamudi, Carmudi, Zando, Jovago, Lendico and Easy Taxi.
Visit Lamudi on Facebook, Twitter, Google+ and LinkedIn