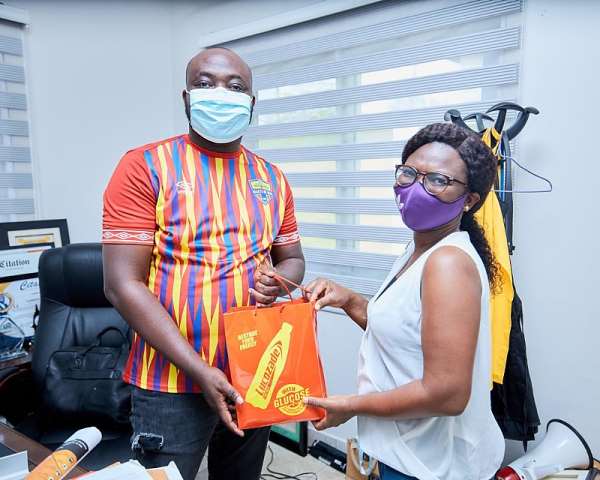 Accra, June 21, 2020 – Across the world, the euphoria around Father's Day is relatively low largely because the contributions of fathers in the home have been seen more as a duty than a sacrifice of parenthood.
This year, however, the NINANI Group decided to celebrate fathers on its teams and give them the recognition they deserve to encourage them to do more as fathers.
The NINANI Group in partnership with Lucozade Ghana, surprised the fathers in all the subsidiary companies of the NINANI Group with Lucozade energy drinks and cash donations. Speaking on the gesture, CEO of the NINANI Group, Joel E. Nettey, said celebrating fathers has been put on the back burner for too long because in many homes fathers the roles and sacrifices of fathers are taken for granted and this has to change.
"Throughout history, the contributions of fathers in the home and in all aspects of life are known and recognized but hardly do we consciously celebrate them. They provide unique, dynamic and important contributions to the development of their families, children and communities. It is for this reason that the NINANI Group decided to do something special for the fathers amongst us to tell them that we see and recognize what they do for their families, the companies they work in, their communities and the nation. Let me use this opportunity to say a big Ayekoo to all of them and also encourage them to stand tall and stand proud as fathers", Mr. Nettey said.
Daniel Armah, an accountant with the NINANI Group, could not hide his joy and surprise about the gesture. "Never did I imagine that a day would come where fathers will be celebrated like this and to do so in this manner is just gratifying. It tells us that at the very least, someone sees and appreciates the hard work and commitment we show towards our families and work and I am very grateful to the NINANI Group for this kind gesture", Mr. Armah said.
It will be recalled that the NINANI Group, parent company of five leading integrated marketing communication companies – Rezultz Advertising, Innova DDB Ghana, Interactive Digital, Brand Alert, Innova Liberia and Touchpoint Magna Carta, organized similar appreciative gestures for the mothers on its teams during Mothers Day .