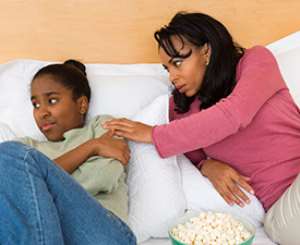 Photo culled from Clevelandclinic.org
Sign #1 Your kid who was once quite obedient and nice has suddenly started to back-talk and be rude to you, when you ask them questions about their friends and activities.
Sign #2 Your teenager spends a lot of time outside and returns home only after you call him/her multiple times and he/she refuses to tell you about his/her whereabouts.
Sign #3 If your kid has been doing well at school and the grades drop suddenly or if you get calls from his/her teachers expressing concern over your teen's constant leaves, which you were not aware of, then it a sure-fire sign that needs to be addressed.
Sign #4 Your teen spends most of his/her time at home locked up inside the room and refuses to be a part of family outings, dinners, etc, and never bothers coming out of the room.
Sign #5 Your kid comes home late at nights, smelling of alcohol, cigarettes, etc. This could mean that they have developed certain vices, which must be stopped before it gets worse.
Sign #6 Your teen constantly lies to you about everything like school timings, their whereabouts, grades, etc. Stealing money from you may also be another sign to watch out for.