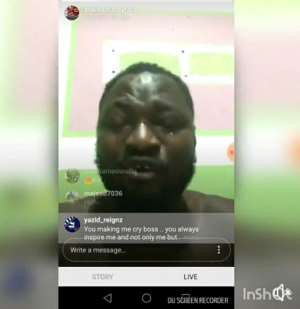 Popular Ghanaian comedian, Funny Face has shared an emotional and teary video to bring life to people who are going through struggles and feel like ending it all.
The video which he felt a strong urge to share after his morning prayers was meant to motivate people who feel they have had enough of the struggles of this World and contemplating suicide.
In the short video, he explains all the hassle and hard work he had to endure from the year 2007 to finally break into the entertainment industry.
Amidst sobs and tears, he reminisced how he commuted from Circle to Tema continuously for almost two years just to share jokes on radio for one minute.
At a point her mom got disturbed about his son's struggles and asked if his only option was to be on radio.
According to him the video was necessitated by floods of messages he received on Facebook from fans who wanted to commit suicide because they feel life has treated them badly.
Below is his post and emotional video;
"So dis dawn @ 4:00am I broke down into tears .. when after praying I felt I should share one of my deepest story to motivate some ppl .. cos I was getting too many messages of ppl who are tired in life and want to commit suicide .. I remember how my mother cried one afternoon in 2007 .. when she saw all da hustle am going thru .. walking from circle to tema in and out for 1 year 8 months almost 2 years .. she cried and asked me " Nana is it by force to talk on radio ,, then with tears she prayed .. and said to GOD in front of me dat she doesn't have anything to support me but she prays to GOD to grant my wish ! Today here am I !! The #ChildrenPresident .. Never give up no matter what u going thru .. suicide is not an option .. if GOD can do it for me HE can do it for you !! Be inspired and motivated .. #Nevergiveup . #ChildrenPresident #MrHappiness .. Big ups to Fada Dickson , Abeiku Santana , Kofi Asare Brako Abatey , Charles Osei Assibey , B.B. Menson , Shadrach , Jerry Justice , kwame Idan , Kusi Mensah Capito , Papa Bills , Afua pokua , Daddy Bosco and Ama Carr , Akumaa Mama zimbi , And one beautiful woman who now works with multi media he me name escaped me .. she use to stay in commuting 2 .. with her sister being a professional seemstress .. she has a little daughter by den .. she used to work with Adom Fm too at dat time !! Thank you all for believing in me !! Ur reward is in heaven .. forgot some of da names .. But genuinely .. God bless you all .. I love you !!! #ChildrenPresident."
https://www.facebook.com/benson.o.boateng1/videos/10160089621640212/?t=32