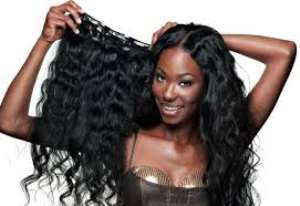 Photo credit - 360nobs.com
Most Ghanaian women can relate with the skyrocketing prices of hair extensions and hair products not to talk of the ever-rising charges at the salon. This has led to more women opting to go natural but it also isn't an easier option as one would have to purchase special products for natural hair too.
If women should draw calculators to how much of their salary goes into their hair, it would breath a new perspective on how to manage their finances.
I have come up with 4 easy ways women can maintain a beautiful hair while spending very little.
1. Invest In quality human hair extensions
Investing in human hair may sound expensive on the surface but it really pays off. Quality human hair is reusable and may last a lifetime other than synthetic hair which is discarded after first use.
2. Wig caps
Wig cap is one sure way to save money on your hair. Investing in three different wig caps can take you through a year and minimize your visits to the salon. All you need is a simple corn rolls to enable you fix your wig cap effortlessly.
3. Kente/ African print scarves
Kente and African print scarves are in vogue and this is the best moment to transform your look with colourful African print scarves. All that is required is different colours of scarves and a little bit of creativity. You don't need to visit the salon to fix a scarf. Do you?
4. Invest in simple hair equipment
To reduce frequent salon visits and cut down cost, you need to invest in simple hair equipment like tonging and straightening machine, hair dryer and bending rollers. With these, you can touch up your hair and do simple hairstyles which would have caused you some cedis.
5. YouTube tutorials
With the advent of the Internet and YouTube video tutorials, you can learn how to do various hairstyles yourself. These videos gives step by step procedure from crochet braid to bantu knots.
Note - Photos used unless otherwise stated does not belong to Modern Ghana