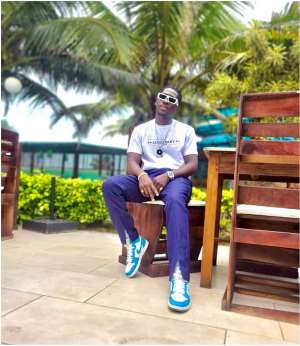 In the ever-evolving realm of music discovery, Jhey Bhryzi a rising star is poised to set the stage on fire with his debut single titled "Money. The talented artist of Ivorian-Ghanaian descent, whose real name is Kablan Boamin Bruce recently announced that he is now fully set to embark on his musical voyage with the release of 'Money'.
In an interview, the young artiste said, "This is the very first single I am presenting to the public, and I hope to captivate people through it. I also believe it's the first release that people will remember. I'm confident that 'Money' will make waves because I know the message I convey in this track. Therefore, I call on everyone who sees my message to stay tuned for the single's release, scheduled for this month of September 2023".
As much as his message is captivating, also captivating is the compelling back-story behind Jhey Bhryzi's musical journey. Born into a family engaged in diverse professions, one crucial profession was conspicuously missing: that of a musician. Perhaps in a bid to complete the puzzle, Jhey Bhryzi became the one who ventured into the enchanting world of music.
'Money,' Jhey Bhryzi's debut single, is not just a song but a labour of love and dedication. The title itself holds a deeper significance as it was forged from countless sleepless nights and relentless passion. The artist recalls how he found himself immersed in creating a musical masterpiece while navigating the challenges of his final year at the university. He said "I didn't sleep, day and night; I was focused on delivering something substantial to those who follow me. I take this opportunity to thank the arranger of the hit and everyone who supported me in bringing this project to fruition."
Having completed his primary education in Côte d'Ivoire, Jhey Bhryzi returned to Ghana for higher studies. Today, he proudly holds a bachelor's degree in Auto Mechanics from the prestigious Takoradi Technical University.
Jhey Bhryzi's unique blend of Ivorian and Ghanaian heritage infuses his music with a rich cultural tapestry. This multicultural background is reflected in his music, which effortlessly merges the rhythms and melodies of both regions. 'Money' promises to be a sonic experience that transcends borders and captivates hearts worldwide.
'Money' explores themes that resonate with audiences of all ages and backgrounds. It delves into the pursuit of success, the allure of wealth, and the sacrifices made along the way. Through his music, Jhey Bhryzi invites listeners to join him on a soul-stirring odyssey where dreams are chased, and passions are pursued with unrelenting fervour.
Source: Elabor BizTV