Ur' Majesty Crew To Sign Controversial Ghanaian Actor Scorpion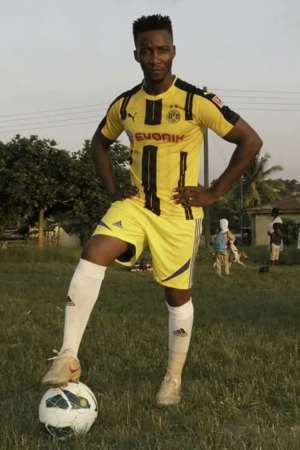 They are a production house established to supply profitable and acceptable Ghanaian movies to diverse domestic and international consumers.
The production has been quiet for a while now but has recently come out to continue their good work by producing better Ghanaian movies.
Due to their come back (Ur' Majesty Crew) has revealed its intention to make a claim in the movie industry in Ghana. The production house made their intentions clear and have gone on to sign a Ghanaian actor who star in movies.
Speaking to Nebu Francis, The C.E.O Of (Ur' Majesty Crew), said that the signing of the actor was in line with the company's vision of pursuing an agenda of "creative arts made in Ghana."
He added that the movie star is to headline (Ur' Majesty Crew) movies and also assist the outfit to promote their movie production ambitions.
Nebu Francis confirmed this in a post on his Facebook handle
"We want the fans and admirers of the Movie Industry to note that Ur' Majesty Crew will be signing Andrews Ntul Mensah known by his alias as Scorpion for his stunts in the Ghana Movie Industry. It has come to our knowledge that Andrews has earlier posted on his official facebook page about the agreement and I want to confirm formally that we are on the verge of completion".
The proposal package contains a lot of incentive bundles for the healthiness of young and matured production houses, with some actively involved with Andrew.
According to him it's not their plan to create an unfavorable working environment for such an act. He said, its in their interest to manage, direct and get along with normal business to help the movie industry in Ghana get better through a well-defined artistic management though certain unprofessional and amateurism acts will not be longed for.
"Ur' Majesty Crew wants to characterize Andrews Ntul Mensah to the world not just as a stunt artiste but a personality of potency and creativity in every area of film making", he started.
PROPOSAL PACKAGE
In our package, Ur' Majesty Crew;
1. Will help to create new opportunities in addition to what is available for Ntul Andrew both Local and International
2. He will be provided with a good trainer, stunt man and a director to regulate him for a role casted.
3. He will be provided with a professional medical doctor to pattern his health and work.
4. Good scripts from directors for shooting will be ensured and revised for advice.
5. There will be a regulation of a fixed charge rate for any production to benefit each other's interest based on his role.
6. He will be part of Ur' Majesty's project and proper branding will be ensured.
7. A legal practitioner(Lawyer) for any legal assistance will be provided to guide and resolve matters of agreement between parties.
"This is to give the general public a clue about what is yet to transpire between both parties therefore, we entreat all media houses to discuss it with sanity to help Ur' Majesty Crew prevail in every area of the showbiz industry"
The official date for putting pen to paper will be announced soon.
Francis Dzogbetsi
(Nebu Ur' Majesty)
Ur' Majesty Crew