Bring Back Nana Aba GJA & GIBA Tell TV3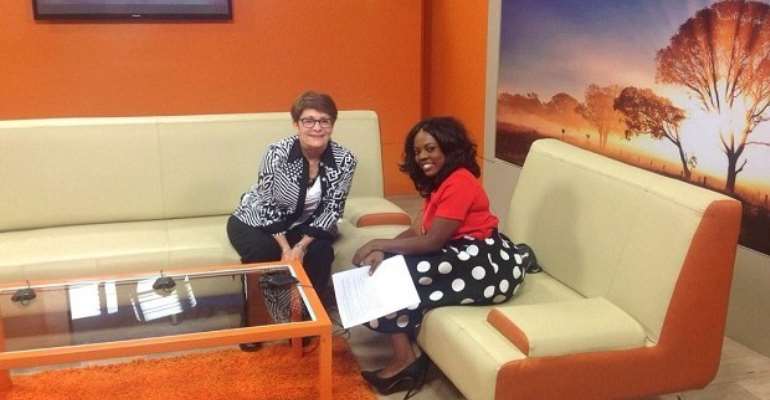 Nana Aba (Right)
The Ghana Journalists Association (GJA) and the Ghana Independent Broadcasters Association (GIBA) have both called on Management of TV3 to rescind the station's decision to suspend its news anchor and presenter Nana Aba Anamoah from all on-air programmes over allegations of online information and photo theft levelled against her.
In two separate statements, the associations said TV3 should temper justice with mercy and recall Nana Aba to duty in the wake of the huge and rising public appeals for her.
Meanwhile there are persons also publicly calling on Nana Aba to resign and not return to TV3 even if the station calls her back.
The President of GIBA, Akwasi Agyemang, said the Board and Management of TV3 should take a second look at their decision and also take into consideration the several appeals that have come from fellow media practitioners over the last couple of days for a reversal of the decision.
Roland Affail Monney, President of the GJA, told Neat FM on Tuesday morning that a delegation from his association had been meeting with management of TV3 over the development but the station was yet to make a definite statement on whether or not Nana Aba would be called back.
'We fully respect TV3's disciplinary structures and procedures but at the same time, we feel they need to square their disciplinary procedures into public concerns. Whether we like it or not, public opinion is very important. We are talking to them and telling them this is our stand.
'We [GJA] spoke to Nana Aba over the weekend. We met her on Sunday and she explained that she went to London and there was an issue with a friend's pictures and she made a joke with it but the source of the picture came out and there was some difficulty. But she has apologised and an apology is an admission of guilt. She was remorseful enough and responsible enough to own up and based on that we feel that enough should be enough for now,' Affail Monney told Kwesi Aboagye, host of Neat FM's morning show.
Mr Monney said 'it would be in the interest of both TV3 and Nana Aba that this issue is resolved as quickly as possible because the more it drags, the more negative comments it attracts. Whether we like it or not, Nana Aba is a media celebrity like Kwame Sefa Kayi, like Kweku Baako, Kwesi Pratt, Randy Abbey; they are celebrities and they deserve some special favour or treatment…They say their core function is first in news, best in entertainment and when such things happen their attention gets diverted to responding to public reactions about Nana Aba.
'Our stance is that once Nana Aba has accepted that she did something wrong, they have to temper justice with mercy. To err is human and to forgive is divine. If she has shown maturity and accepted responsibility, we plead with TV3 to be merciful to Nana Aba for her to return to her work.'
Nana Aba's suspension was officially announced by way of a press statement on Saturday, and the station said the decision followed a recent allegation of 'online information theft' levelled against the journalist.
It was signed by Chief Executive Officer of TV3, Mr Augustus Dickson, and stated that 'after preliminary investigations internally, and in accordance with TV3's own commitment to the highest level of professionalism, Management has decided to take Nana Aba Anamoah off air until further notice.
'As a broadcast network that prides itself in upholding high ethical standards and delivering credible and trustworthy content to its viewers, TV3 would like to assure viewers and other key stakeholders that it shall continue to take all necessary steps to maintain such standards.'
'We expect guardians of our brand, particularly employees who we entrust to deliver content on air to our viewers, to ascribe to the company's values wherever they are,' it added.
This has come at a time Ms Anamoah has lost a dad and is still in a period of mourning.