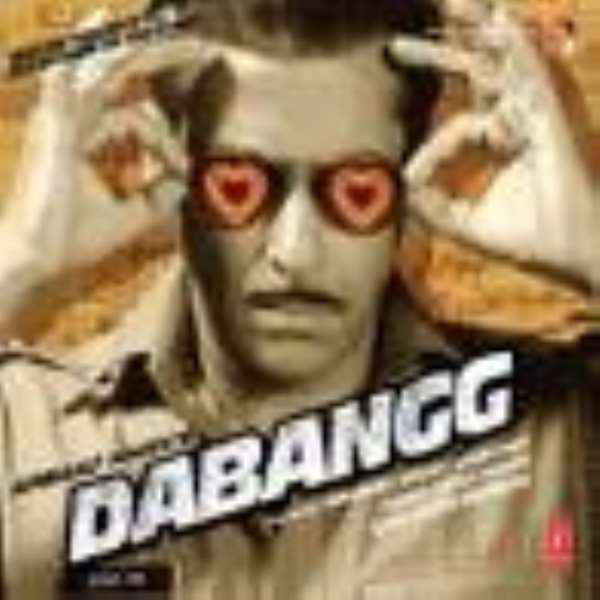 The title does not matter. The story does not matter. The star cast even more so. Who matters is the gutsy darling of the masses – SALMAN KHAN. This destiny's child has arrived with the dhamaka that dares (and bares finally) and does dillagi with gay abandon. There are no rata-rataya dialogues or tutored acting. There is only Sallu in all his carefree glory doling out garma garam halwa that is a treat to his month-long fasting fans.
By now everyone knows the story and there is nothing new to say about it. Dabangg is about Salman Khan (yup! Only he matters. Rest everyone are fillers. Sallu fills the screen. Looking at him is enough for all of us.) Da (Big) Bangg is set in Laalgunj, Uttar Pradesh. Dabangg is the story of Chulbul Pandey (Salman Khan), a totally fearless but corrupt police officer with unorthodox working methods. He calls himself Robinhood but that may just easily be Robberhood for he robs the goons and helps the needy.
But even the most fearless at times face a tough fight with their innermost demons. Chulbul has had a bitter childhood. After his father passed away when he was young, his mother Naini (Dimple Kapadia) marries Prajapati Pandey (Vinod Khanna). They have a son Makhanchand/Makhi (Arbaaz Khan).
Prajapati favours Makhi which Chulbul doesn't like. He detaches himself from his step-father and half-brother. His sole attachment is his mother. However, after his mother's demise and an unsuccessful attempt to mend wounds, Chulbul snaps all ties with his step-father and half-brother. Rajo (Sonakshi Sinha) ends up as a soothing balm to all his emotional wounds. Chulbul starts to see life twogether with her and ends up marrying her (what else!).
But his detractors, especially the dubious Cheddi Singh (Sonu Sood) pit one brother against the other. Makhi ends up carrying out cheddi's will but when he realizes he has been used, he turns to Chulbul. Will Chulbul take his extended hand? Will the brothers be able to thwart their detractors? Will this time, Chulbul's fearlessness channelize itself positively and reunite him with his family? And that forms the rest of the movie.
The songs are a big hit with the masses. The movie is a one-man show and carries forward the 70s and 80s era. It is for the ones, who are out to have fun and only fun. For there is nothing else. Yeah, there is emotion (but no pyaar atyachaar). There is devotion (to mother). There is action dhishum-dhishum (goons are flattened like cardboard and front-benchers roll on the ground). And there is Salmanation. (Oo la la).
Sonakshi Sinha in a her debut role is good. She is natural and not the plastic babes of today. There is time for her to grow and pick-up the nuances of acting. Mahie Gill is there in blink-and-miss role. Anupam Kher (politician), Mahesh Manjerekar (Rajo's father), Om Puri (police commissioner) but like I said, there is only Salman encompassing the entire screen. There is no need for anybody else. The pencil-thin moustache has become a trend with many sporting it (not the glued ones, silly!)
Right from the first trailer, the dialogs were a major hit. Had any other hero mouthed the same dialogs, it would seem strange but with Sallu, it is natural and expected. Who else can say "itne chedd karoonga ki kahan se saans le aur kahan se paade" so convincingly that it is like a day-today conversation. This is right up Sallu's alley. And this is what his fans want. With Dabangg the line between his fans and non-fans has vanished.
And Munni Badnaam has an entire nation singing it like there is no tomorrow. The credit goes entirely to Malaika Arora. She can bring dead alive with this song alone. She infuses raw life in the raunchy number. Sonu Sood is likeable although no match opposite Salman.
Dabangg has become an event, an occasion. One has to pay a must-visit to the mast-mast star in the cinema hall. At each gaali, there is ceetee and taali. There is a female appreciating it vocally and dancing with each song next to me. Each dialogue is clapped at and appreciated. When there is so much fun going on on-screen and off, one is bound to enjoy doubly. I too want to dance but watching others dancing is enough. I am content.
People are dancing on the seats. Interval seems an intrusion and is not really required. The movies end in two hours. We long for more. The fans are getting their Salman-fix but this is not even adequate. Never mind. It still fills the cockles of our hearts.
If Wanted rocked, Dabangg roars like a mighty lion, which is majestically on a prowl for his prey (like Sallu after goons). Cant'wait for Ready and Kick (both 2011). There is a revolution going-on that spreads from single screens to multiplexes alike. It bings the nation in Dabangg fever. There is no escaping this except finding refuge in the cinema hall playing the movie.
Opening day Friday business has shattered previous records with a total business of Rs 14.50 crore. Saturday and Sunday weekend remains and then the entire week. God! The second week too has a free run for it. Imagine the third and more. The movie has become a road-roller in trouncing competition and setting new business figures that can be gaped at but not easily overcome.
I will see the movie again and again and… provided I get the ticket. Seeing it first day first show was fortunate enough. I must give other first timers too a chance. But I will keep trying my luck till I get that second ticket. It has a repeat value that will not go out of favour in a long time.
Jiyo Sallu for the double dhamaka. Fireworks! Festivities start right now! Watch it for what it offers. That is enough. Don't expect anything more for there is nothing more. There is only Salman the sher that roars in the jungle of UP hinterland. Nilaya, dhulaya aur hasaya, kya Sallu!