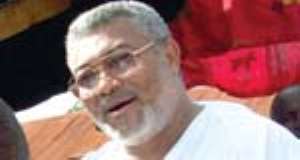 •Keeps Awake Till Dawn
The former president and founder of the National Democratic Congress (NDC), the country's largest opposition party, Flt. Lt. Jerry John Rawlings, has revealed that while in The Hague recently for the Africa Day (Dag Africa) 2007 celebrations, he met a wonderful lady he hoped to bring home to Ghana.
Describing her as 'SWEET', the flamboyant and fun-loving retired Air Force pilot said he was highly impressed with the lady's 'behaviour', after he (Rawlings) had kept her sleepless for hours on end till cockcrow.
The engagement, to him, was so memorable that when he mounted the podium the following day to read his keynote address, which he starkly referred to as a very boring speech, one of the first things he did was to entreat the highly expectant audience to give the lady a round of applause, which it did.
This was after he thanked his hosts and introduced Dr. Tony Aidoo, a deputy defence minister in his regime, simply as 'an old colleague'.
The former president, after pouring tons of praises on the lady, for God knows what, and glaringly noticing the loud silence in the hall, quickly explained that his wife, Nana Konadu Agyeman, was away attending a meeting in Venezuela.
"And now my sweet lady, Akua. My wife happens to be… No, no she is not my wife. My wife is in Venezuela in a meeting, and the lady that I kept awake till about 4.am this morning… please give her a round of applause," he urged the crowd.
Even though he did not state categorically in what manner he had denied her sleep till dawn, and why in particular she should be applauded, Rawlings said she was such a wonderful lady that bringing her over to Ghana would have been a good idea. On this note, he said it was good he honoured the invitation.
"I was telling her this morning the way she behaved, and considering an African Head of State, and how she was ordering us around, I said, 'you this lady, we will take you back to my country so that you can be the headmistress of one of our schools', " he stated hilariously.
Implying that the written keynote speech, reportedly written by Tony Aidoo, was not one of the main things in his heart, he pleaded with the audience to bear with him and accept it as a formality.
"You will have to put up with me as I read to you a very boring speech, and when it is over, I think we can talk, and I can say what is in my heart. This is just part of the formality we have to go through."
In the course of the speech, the ex-president, after condemning the inhumanities and exploitation that went along with the slave trade and colonization, noted that some of the colonial masters, mainly the Dutch, were impressed with the beauty of some Ghanaian ladies and decided to have babies with them.
This scenario, to him, led to the proliferation of many Dutch names in prominent Ghanaian homes, which eventually gave rise to a closer bond of linkage between the peoples of the two countries.
He noted that long after the Dutch had retreated to their country, following the collapse of colonialism, a number of Ghanaian youth trooped to Holland for greener pastures when things went very bad in Ghana.
The essence of his invitation to the event, which prompted a lot of heated discussions and media explanations, was to explain the challenges he faced in guiding Ghana into democratic governance.