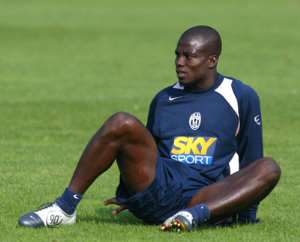 Ghana will prepare for their maiden World Cup finals in Austria, rather than Portugal as originally planned.
The change came about after Fred Pappoe, the vice-president of the Ghana Football Association (GFA), and assistant coach Silas Tetteh visited Austria last week.
"When you compare the facilities in the two countries, we are getting a bit more in Austria than in Portugal," Randy Abbey, a GFA board member, told BBC Sport.
"For example, we would only get one pitch in Portugal while we are getting three in Austria.
"And we are getting some extras in several other facilities."
"The most important thing is that we are getting sponsorship to take care of the costs of using the training facilities."
Ghana considers World Cup offer
Ghana had planned to base themselves in the Portuguese town of Faro from 14 May but this will now be in Austria.
They will use the camp to travel to friendly matches arranged in Germany, London and Glasgow between 26 May and 4 June.
Abbey revealed that the Black Stars will play Turkey, rather than Belgium, on Friday 26 May in Germany although the host city for the match has yet to be determined.
The same is true of the venue in London where the west Africans will play Jamaica on Monday 29 May.
The final friendly will be against South Korea in Glasgow on Sunday 4 June after plans to move this game from Scotland to London were abandoned.
Hannover cancel Ghana friendly
The Black Stars still intend to play a friendly in Germany this month but the GFA is still talking with potential opponents about the fixture on 26 April after Hannover 96 pulled out last week.
"We are still talking to some other teams, and are trying to get a friendly for the same day," Abbey explained.
"We hope to sort it out by the end of this week."
Ghana open their Group E campaign against Italy on 12 June, before taking on the Czech Republic on 17 June and the USA five days after that.