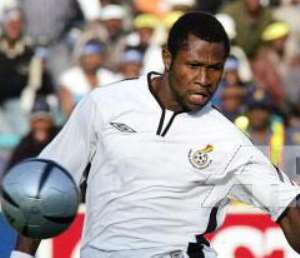 ...with the help of some Black Star officials The transfer news on Ghana's best local footballer and Kotoko's captain Gabriel Issa Ahmed was received with mixed feelings not only by supporters of the porcupine warriors but some management as well as board members of the club.
To the supporters, the absence of their ever-committed captain is likely to create some holes in the defensive set up of the club and they as supporters will forever miss their dependable captain. Besides Issa Ahmed, deserves to play in the Danish Super league and not the first division, taking into cognizance his performance on both the local and the international scene.
Within the top hierarchy, tempers are flaring not for any of the reasons outlined by the supporters but for other reasons purely financial. It will be recalled that two weeks to the start of the nations cup, Turkish Super Liga side offered to sign Issa Ahmed for $250,000 dollars for 3 years.
Management and board of directors of Kotoko rejected the offer on the grounds that the money involved was too small and like Oliver twist, they were asking for more.
Ironically with the help of some Black Star officials, Issa Ahmed signed same 3 year contract this time with a lower Danish division one side Randers FC, for $180,000, an act which has triggered a serious argument amongst some of the top ranking members of Kotoko. It is believed that some Black Star officials connived with a Kotoko official to seal the deal.
The rank and file of Kotoko is divided over this issue, whilst some are calling for whoever was involved to face the Sanhedrin others are saying let the sleeping dogs lie.