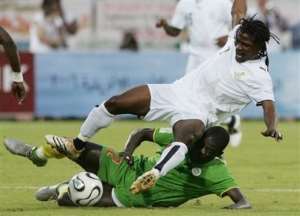 The Ghana football Association has appealed against the four-match ban plus a thousand dollar fine that has been slapped on Black Stars mifielder Laryea Kingston after his clash with Senegalese' defender Habib Beye in their Group D game last Friday.
The Confederation of African football yesterday handed four-match bans and $1000 fines to Habib Beye and Laryea Kingston after the two were sent off for fighting in the Group D clash last friday.
Speaking to Citi FM, GFA President Kwasi Nyantakyi insisted that though the entire Ghanaia contingent were disappointed with Laryea's conduct,the Association thinks the punishiment is harsh on the player.
Mr. Nyantakyi stated that the verdict on the two players is not in tandem with CAF's regulations, hence their decision to appeal against the decision.
He stressed that the situation is not a dent on the country's image at all, maintaining that there is no stipulation anywhere that warrants such a punishment in a situation of this nature.
Both players are expected to miss the rest of the MTN Africa Cup of Nations.