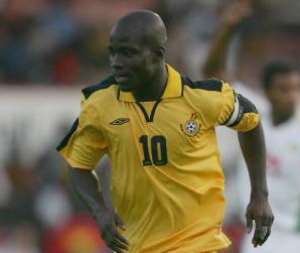 Time: Friday 15:15 GMT - Port Saeed Stadium PORT SAID, Egypt, Jan 26 - Senegal are out to pile the African Nations Cup misery on World Cup hopefuls Ghana when they meet in Port Said on Friday.
Ghana, missing several key players at these finals, were beaten 1-0 by Nigeria in Monday's Group D opener, while Senegal ran out 2-0 winners over Zimbabwe.
With Nigeria now expected to beat Zimbabwe, or at the very least take a point, another Senegal victory on Friday would hand Ghana an embarrassing elimination after just two matches.
It would be particularly sweet for the Senegalese, whose own World Cup hopes, like those of Nigeria, ended with a nasty surprise in qualifying.
'I know this is a very, very hard game but everybody is ready to go and fight it,' forward El Hadji Diouf told reporters as he prepared at the team's Ismailia base.
'Ghana are a big team and if you beat them it gives you a lot of confidence. 'If we win, we're going to the quarter-finals, if Ghana win, we're going to lose confidence. It's a big game.'
Senegal were good value for their win over Zimbabwe after a laboured first half, with striker Henri Camara making one goal and scoring the other.
Diouf and Camara will again lead the front line against a below-strength Ghana side who were only beaten by a late free kick from Taye Taiwo.
Ghana are missing striker Asamoah Gyan, Chelsea's influential central midfielder Michael Essien and holding player Sulley Muntari at the finals - leaving only Laryea Kingston and Stephen Appiah from the regular midfield.
'If I'm tired, Essien, Appiah or Suley could take over,' Kingston told reporters. 'We share responsibilities. But now we are only two in the team... Missing these three players is affecting us a lot.'
Even allowing for the absences, defeat on Monday to another west African side was a particularly painful one and Kingston hopes to avoid another sleepless night on Friday.
'Ghana v Nigeria is a tough game no matter who plays,' he said. 'It hurt more because back home no-one was happy about the result...I couldn't sleep the whole night because I was thinking about it.'