Nii Dzata I Grateful To SWAG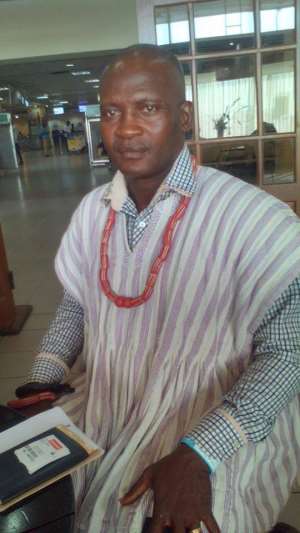 Nii Adote Dzata 1, Sempe Sakaman Mankralo has commended the Sports Writers Association of Ghana (SWAG) for naming Kickboxing champion, Jonathan Euro among the Special Award winners.
The president of Ghana Kickboxing Association said the SWAG awards is a great motivation to sportsmen and women in Ghana and called on other companies to support the event which has been running non-stop for the past 44 years.
Nii Dzata 1 aka Joe Mingle who is a former SWAG award winner when he won bronze at the world Kickboxing championship some years back commended Jonathan Euro for maintaining the level and reputation as a world champion in 2018.
Jonathan Euro, one of the best Kickboxers in Ghana was in Hong Kong to beat Zhang Yulong in a 1-1 Super Fight Championship at the Star Hall on December 1, 2018.
Euro who is a senior member of the Pro Fighting Factory Gym is poised to make history and establish himself as one of the best fighters from Africa.
He also hailed the SWAG members and executives for monitoring the works of the best sportsmen and women.
Nii Dzata who contested in the GOC elections on 2017 but lost the Secretary-General position said Ghana sports need competent leaders and dedicated sportsmen and women.
The 44th MTN SWAG awards would be held under the distinguished patronage of the AIPS Africa president, the USA Ambassador to Ghana and Togbe Afede XIV, the Guest of Honour. The full list of Special Award winners are:
SPECIAL AWARDS
1. Binatone Ghana Ltd (Support for Skate Soccer)
2. Albert K. Frimpong (Skatesoccer and Baseball)
3. Kofikrom Pharmacy (Armwrestling)
4. Akwasi Frimpong (Winter Olympian)
5. Greater Accra Handball Association (Handball)
6. Jonathan Euro (World Kickboxing Champion)
7. Ghana Revenue Authority (Hockey)
8. Casely Hayford Hall (Support / Cheering)
9. Dan De Van (Para Sports)