Issah ready to fight after Kufuor recall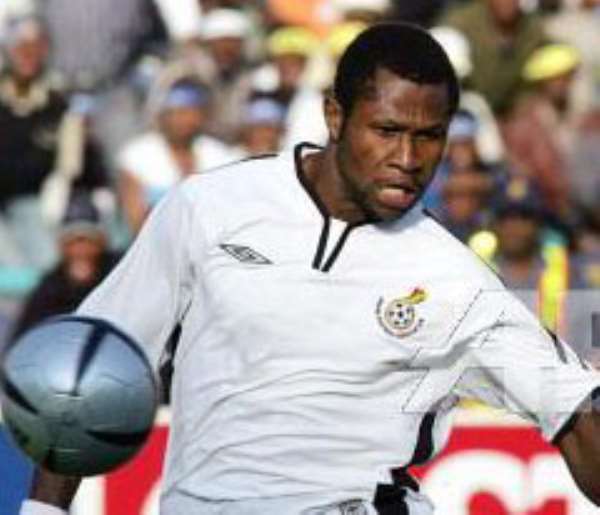 ASANTE Kotoko captain Issah Ahmed on Wednesday flew out with the rest of home-based members of the senior national football team, the Black Stars in two minds.
On the one hand, the player is keen on the trip to Saudi Arabia because he believes that a friendly game against the Saudi national team on Monday is another opportunity to warm his way deeper into coach Ratomir Dujkovic's heart as the Nations Cup looms.
But with the Porcupine Warriors' eminent coronation as the GT Premier league champions on Sunday, Issah knew his mind would be wandering during the trip to Saudi and throughout the period.
He would have loved to have been involved in what is sure to be a huge party in Kumasi with Kotoko, who are set to be crowned league champions on Sunday. The league trophy is a strong evidence of how good this year has been for the former Great Olympics man. He joined Kotoko in 2003 as an unknown and behind the likes of Joe Hendricks and Dan Acquah in the pecking order.
But two years afterwards, he is captain of the side and a Ghanaian league winner for the second time. On a personal level too, he has shot from an unknown and earned himself a place in the senior national team by a marginal stroke of luck and a massive dose of hard work.
I say luck because Issah had rarely figured in the plans of national coaches until Sammy Kufuor's problems with Ratomir Dujkovic begun. And even in that game in Congo DR which marked the beginning of Kufuor's seven-month exile from the squad, the Kotoko player had to watch from the bench.
It was Hearts of Oak's Dan Coleman who took that slot and did a brilliant job of handling Shabanni Nomda. Doya though is ruthless in his team selection and when the Hearts man begun playing poorly, he was dropped for Kofi Amponsah. Amponsah had a tough time in the opening quarter of the 2-1 win over Burkina Faso before leaving the field injured. That was when Issah stepped in and he has not looked back since.
Impeccable for the rest of the game, he proceeded from there to play remarkably well in that game of our lives against South Africa in Johannesburg. No wonder he describes it as one of the most important games of his life.
"It meant everything to Ghanaians and to me. We needed to win, we were underdogs and we were up against not only some of the best players on the continent but against the crowd too. To win there was something special", he recalls.
He has since been a regular at the heart of the Ghana defence alongside John Mensah but football is an uncertain game and the recall of Sammy Kufuor means Issah's hitherto automatic place will be under threat. He is all cool about it and positive too that he can stand up and be counted in the face of world class competition.
Said he: "The moment Kufuor was called up, I knew the implication but it is not as negative as people think. I've always had to work hard for my place in the team but I understand the stakes are higher this time.
"I respect Kufuor for what he has done and continues to do as a footballer. You have to be good to do what he has done with his career in Europe but I will compete in the spirit of sports for my place. I have already heard people say that Kufuor's experience is vital. You need experience alright but how do you gather experience unless you start playing regularly?"
The battle for one of the two central defensive places will be one of the most intriguing side attractions ahead of the Cup of Nations but whatever happens, the player's first priority is to earn a place in the squad.
He has already achieved one vital goal in life. Last Sunday's terror-prone game at the Kaladan, he says, was his last for Asante Kotoko as he prepares for life in the Turkish Super League.
"It's a major breakthrough in both sporting and financial terms but he says he leaves with Kotoko squarely on his mind. I'm happy that I secured a move at last. I had attended a number of trials without success so this represents a major breakthrough.
"Winning the league title again with Kotoko has given me incredible confidence but Kotoko must start thinking big and must start dominating in Africa again. It is not good for Ghana and the image of the big clubs that since 2000, no Ghana club has made in through the group stage of the African champions league. "Doing well in Africa should be a key priority for Kotoko next year but to be able to compete, the club must spend money. We need the big occasion players who can change a game in a moment with one stroke of magic", said Issah. When I ask if Charles Taylor qualifies as one of those players, his response is an unequivocal yes. "He is brilliant and can change things quiet easily for any team. He will be a valuable addition to the squad."
There are those who say Issah himself has been a massive plus for the Black Stars and there is plenty of evidence to back that. Strong in the tackle but smart in the head too, it has been hard to find fault with his continued presence in the team as the only home based player in the starting eleven. That could be about to change with a certain Sammy Kufuor around. But Issah is sure to give up his best in what will be an intriguing battle. "I want Ghanaians to know that what the foreign-based players can do, the locals can do too if we get the chance."
He is a living proof of that but the test may be just beginning for him.