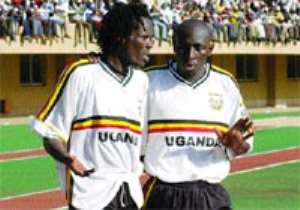 CRANES enter camp today ahead of their 2006 World Cup/Nations Cup qualifying tie against Ghana. However, coach Muhammad Abbas is too irritated that he seems to have thrown the national team over to his assistant Sam Ssimbwa.
Abbas refused to participate in the exercise of listing the players, delegating the duties to Ssimbwa who came up with a 27-man team, which is expected to enter camp at Lugogo today.
'I don't have any roles in the national team. They have not contacted me since I came back last month, so I could not name the team," said Abbas.
He added,'I have not been paid for the past five months. Every time I work under pressure because the system here is rotten. The living conditions are not good, that is why I decided to leave my family in Egypt. If it were not that I was on contract from the Egyptian governemnet, I would have gone back. But I can't go till the contract expires," he said.