13 September 2017
|
Football News
Paa Kwesi Fabin Gleeful With Abu Dhabi Training Tour
Samuel Ekow Amoasi Appiah / Modern Ghana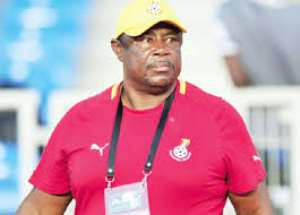 Head coach of the Black Starlets, Paa Kwesi Fabin has maintained that he is happy about the team's training tour in Abu Dhabi.
The Starlets were due to travel for their training camp in Denmark but many of the players were not given visas by the Danish embassy.
However, Paa Kwesi Fabin insists he prefers the UAE for the team's pre-tournament training as compared to Denmark which was originally chosen.
"I am happy we are going to Abu Dhabi for the pre-tournament camping as it will help us a lot. The weather in Abu Dhabi and India are the same so the players will acclimatize well," Paa Kwesi told the Press at the team's hotel.
"I was in Denmark last year this same time and I feel the weather will not be favorable for us since we will be playing in a hot zone,"
"I strongly believe my boys will get the needed exposure also through this camping before the tournament." He added.