It'll Be 90 Mins Of Pure Magic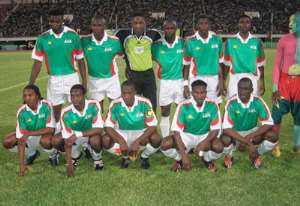 1500GMT: Ghana v Burkina Faso In the history of Ghana football and all our World Cup dreams, nothing has set the passion of so many millions on edge as Sunday's cracker against Burkina Faso in Kumasi.
It is a World Cup engagement set to define the path of the Black Stars to history and Germany 2006, even before the sensational climax against South Africa's Bafana Bafana.
As decisive as the encounter appears, the Black Stars will have one thing on their minds on Sunday — to make the most of their home advantage and win big to advance towards Germany 2006.
On that day, the team will once again draw the attention of millions of Ghanaians to the Garden City as they assemble one of their biggest set of names in association football to square off against the Stallions of Burkina Faso in a Group 2 World Cup game at the Baba Yara Stadium.
An assembly of the big boys, on the surface, should calm the nerves of even the most pessimistic fan of the national team.
Hot commodity, Michael Essien of Olympic Lyon, Stephen Appiah of Juventus, Udinese's Sule Ali Muntari, Baba 'Armando' Adamu of Russian club FC Moscow, Chievo Verona's John Mensah, the Djan brothers, Asamoah and Baffour, are but just a few of the huge materials available for Sunday's game.
But the ability to stumble on the right tactics to overpower the unpredictable Burkinabes will depend much on technical chief, Ratomir Dujkovic, who has already tagged the match a do-or-die affair.
The coach has bemoaned the late arrival of his foreign-based players, but Skipper Stephen Appiah has given the assurance that it will in no way stop them from striking the right chord for victory.
"We are physically and mentally tuned up," the skipper who joined his colleagues in camp on Wednesday from his base in Turin after his club Juventus clinched the Italian Serie A, said.
A loss by any of the sides will see their adventure to Germany effectively over.
This will definitely inform a grudge match of higher proportions, especially as the race for the only qualifying spot in the group is going to be desperately tight, beginning from this weekend
Lying third with nine points in the group behind South Africa (12 points) and Cape Verde (10 points), the pressure will be on the Ghanaians to fight to the hilt to grab the maximum points and get themselves seriously into contention.
Football is a team game. But no one can have any doubts that Sunday's match will be one for Michael Essien. His strength and industry, which have made him a target of the biggest clubs on the globe today, are yet to impact positively on the Ghanaian game. Essien, who will be joining the team today, consequently faces a huge task to prove his critics wrong on Sunday with a game of his life. Surely the players need to work harder, for it is definitely not going to be an easy payday for them, looking at the stakes.
The Stallions showed wonderful attacking form in Ouagadougou during the first round where they beat Ghana 1-0, and they are in no way going to present themselves as prey for Ghana.
As Al-Shabab's striker, Godwin Attram, told me in Obuasi on Sunday: " The Burkinabes cannot be underestimated. Most of their players are strong, fast and quick thinkers and have the ability to cause damage to any team that underestimates their might." Attram said he had played against some of them, including Mamadou Zongo " and I tell you they can be tough".
Zongo, who fetched that decisive goal against the Black Stars in the first round, possesses electrifying and dribbling skills, and together with target man Moumouni Dagano and forceful forward Diendoune Minoundou, the Stallions could be venomous.
Midfielders Seidou Madi and Bebe Kambou also form a formidable workforce in the centre and Essien and co will have to pour out extra energy to outrun them.
Doya will be keeping meticulously to Ghana's short passing game and Laryea Kingston and Sule Muntari, who are likely to operate from the flanks, will be expected to do some serious work.
Asamoah Gyan pulled a muscle at training at the Baba Yara Stadium on Wednesday and there are question marks over his fitness for Sunday's game, while King Faisal's Eric Gawu is effectively ruled out because of injury.
During his outdooring as Ghana's manager in Accra, Doya said Ghana occupies a famous place in African football and must be at the 2006 World Cup in Germany.
The pain of missing out on the biggest sporting event on the globe has become too unbearable for soccer-loving Ghanaians, and another slip can be catastrophic.