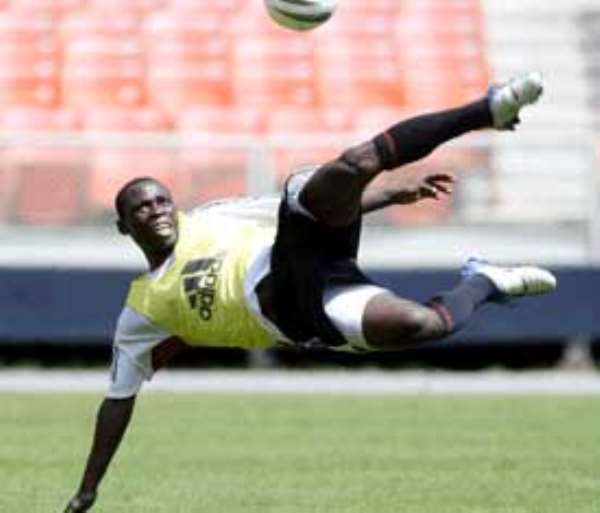 ... With His Raw Talent and Dazzling Shot-Making Ben Olsen called it "the best goal I've ever seen live in my entire life."
The impact of foot on ball was so violent, the sound could be heard from the second level of the nearly deserted stadium.
When the shot crashed into the net, D.C. United players on the bench fell over each other in disbelief.
On May 14, during United's reserve game at New England, D.C. midfielder Nana Kuffour approached a skipping ball and smashed a left-footed shot from 38 yards -- the length of a basketball court plus another 20 feet.
It streaked past several dumbfounded players, beyond the reach of leaping goalkeeper Doug Warren and into the corner where the left post meets the crossbar.
All that exists of the astonishing goal is a grainy videotape and the memories of the other participants and a few dozen fans who had stuck around following the league game between the teams.
"Everybody on the team was asking me, 'Nana, how did you kick this ball?' " Kuffour recalled yesterday. "I score goals like this before, so it was not a surprise for me, but everybody on the team liked this goal."
Kuffour, 20, is perhaps the most physically gifted player on United's roster, a raw talent with thighs like pillars and, as demonstrated by the goal at Gillette Stadium a few weeks ago, a bedazzling shot.
Kuffour arrived from Ghana last year, introduced to United officials by businessman John Obeng, who frequently travels between his home in the Washington area and his native Ghana. Kuffour appeared in five games last season, starting one, but has been limited to reserve matches this year.
United's coaching staff is well aware of Kuffour's immense potential, but until he acquires a better understanding for the game, he'll have difficulty cracking United's deep midfield.
"I don't think Nana had a good day in the last reserve game," Coach Peter Nowak said. "He got a couple of good goals [for the reserves this year], that's true, and he was pretty sharp, but, this goes for everyone, we're looking very close for who will get a chance to play. Nana is one of them."
Kuffour was slow to adjust last year, in large part because of wide cultural differences. Unlike Ghana-born Freddy Adu, who has lived in the United States for eight years and quickly adapted to a new world, Kuffour came directly from a rural area in a central region of the West African country. English is his third language and he often had trouble understanding Nowak's instructions.