Twitter meltdown over Asamoah Gyan's captain's armband 'noise'
Sports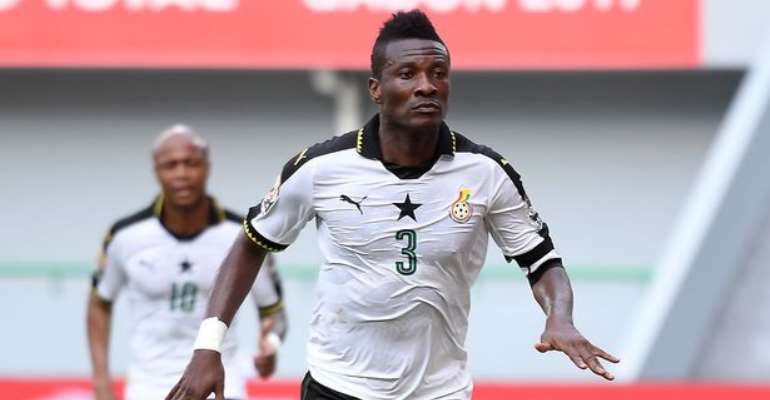 Twitter went overdrive after Asamoah Gyan wore an armband for Ghana - with his OWN FACE on it during a 2019 Africa Cup of Nations qualifier against Ethiopia on Sunday.
Gyan, 31, has justified the decision insisting it's nothing new.
But the action has heightened talks of a perceived 'fight' for the captaincy between himself and Andre Ayew - a claim he has consistently denied.
Many fans reacted on social networking site Twitter over the development which overshadowed the country's convincing win against the East Africans in Kumasi.
Did you see what I saw? @ASAMOAH_GYAN3 has his own arm band...I smell something fishy @CoachOpeele @OtiAdjei
— 1st_Ghanaian (@1st_Ghanaian) June 11, 2017
Wow!
Asamoah Gyan has CUSTOMIZED his captains armband. So Andre has to go for new one instead of just changing.
Hehehe
— Sports Obama (@SaddickAdams) June 11, 2017

So now captain arm bands are being personalised. @ASAMOAH_GYAN3 has his own band, @AyewAndre also has his arm band.. #AFCON2019Qualifiers pic.twitter.com/M3rZwnRmHi
— DAT_OSU_GUY (@rayziray) June 11, 2017
Dede and Asamoah Gyan have their own individual Arm bands??eeiii
— Yaw Yesu (@Yawprodigy) June 11, 2017

@ASAMOAH_GYAN3 now has his own Captain band... that's dapper.
— Duke Boateng (@chopper_GH) June 11, 2017
@ASAMOAH_GYAN3 with a customized arm band.. eii wole m)nk) adey feel am die😂😂 #BlackStars
— The Writeous One (@DewriteOne_) June 11, 2017

@ASAMOAH_GYAN3 got his face on the captains armband. 😳😳
— Al Pa (@alpa_tebe) June 11, 2017
Why did @warisgh10 bring @AyewAndre a new captain's armband whereas @ASAMOAH_GYAN3 could have given his to him @nathan_quao
— DOMINIC SENAYAH (@DominicSenayah) June 11, 2017

Ah Asamoah Gyan has personalised the captain's armband with his picture on it? Eiiii
— Nathanael. (@NatTheHitch) June 11, 2017
Andre Ayew get it own Captain arm band ....Asamoah Gyan too get his own...eiii Ghana..
— Stephen kwame yeboah (@kwameyeb2) June 11, 2017

Apparently has Asamoah Gyan has his picture on the captain's armband 😂😂 #BlackStars
— Alan (@Mr_Lecoeur) June 11, 2017
Asamoah Gyan
For more Ghana football news visit www.ghanasoccernet.com