Ghana Wrestling Champion, Ayeh Appeals For Support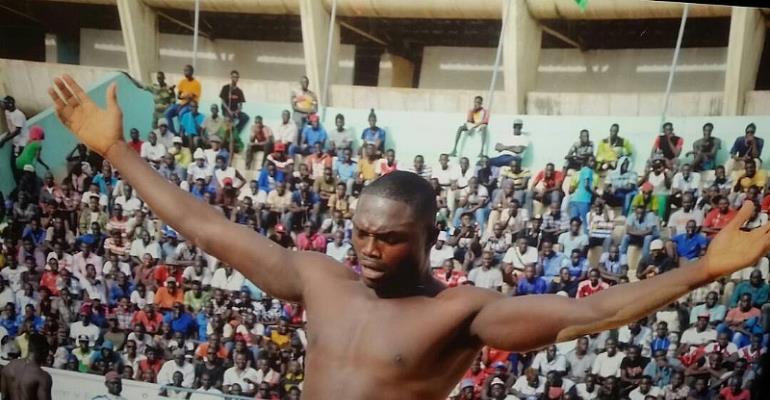 Welbeck Oliver Ayeh, a Ghanaian traditional wrestling champion has called on the government to invest in sports in order to attract the youth to contribute meaningfully to the development of the nation.
The employee of the National Sports Authority (NSA) said sports can bring many positive things to the nation as a whole and individual sportsmen and women.
Ayeh who represented Ghana at the recent 2017 ECOWAS Wrestling De Dakar Championship in Senegal where he reached the Quarter Final Stage noted that there are many sporting talents Ghana, and everyone should be given the opportunity to express him or herself in a discipline.
He said if he had not grabbed the chance to join the wresting team he would not have known his strength and confidence.
Ayeh who was the only Ghana to progress to the quarter final beat his tough and heavier Malian opponent Allasaine Mounbachir at the 100kg weight category.
Weighing lesser than his opponents, Ayeh hinted that he relied on his beach fight experiences to outwit his opponents, but the finalist knew the game better.
Though he could not reach the medal zone, he felt content with his performance and hopes to train harder to reach greater heights.
The Ghana team was led by Coach Cynthia Dossey, an international certified trainer who believes Ghana can make it big in Traditional Wresting if the government supports the organizers and wrestlers.
Other wrestlers who competed but could not progress are Mbalilo Mod, Vitus Adakurah, Richard Tsiyo and John Dekagbe. All of them competed in low weight classes.
Norbert Amefu, Vice President of the GWF is also hopeful that the sport has a bright future in Ghana and urged the youth to join the growing sport in Ghana.