Rugby: Squirrels of Benin Excited After Beating Togo's Hawks 14-12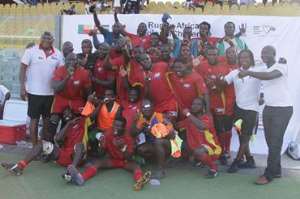 Can you the Squirrel devouring the Hawk? That was exactly what happened at the Accra Sports Stadium on Wednesday after when Benin won the second Group game of the Regional Africa Rugby Challenge with 14 trials over Togo's 12.
The game started on a high tempo as both teams wanted to win at all cost, because host nation Ghana has won their first match 46-5 against Benin.
Benin who did not give their Togolese opponents any chance fought had to manage a 7-7 score line at half time and exploded in the second half treating spectators to a nice game.
The Benin players and officials could not help than jubilate around the stadium over some jugs of Club Beer, one of the sponsors of the tournament. Others decided to take EverPure Mineral Waters, and sang to appreciate their output in the competition as Runners Up.
Kossou Euloge, coach of Benin who was happy with the slim margin win said he was glad with the competition that has exposed his team to many things in the game of Rugby.
Comparing the Hawks of Togo to the Eagles of Ghana, he expressed that the Ghanaians are very much prepared and ready for the game.
He noted that African rugby is gradually developing and very soon rugby will become the continent's most loved sports.
"Ghana has a very strong team and they can win the competition, supported by the home crowd and familiar pitch" he said.
Yues Biaos, skipper of the Squirrels said they have learn a lot and they are going to use them in their local league and teach other players.
He prayed that his government would invest in the game of rugby.
Xavier Perningtat, one of the players of Togo said they under rated the Squirrels and paid for it, but it would be a real battle against Ghana because they cannot lose two games on the trot in the tournament.
He praised the organisers and hoped that more Africans get interested in rugby.