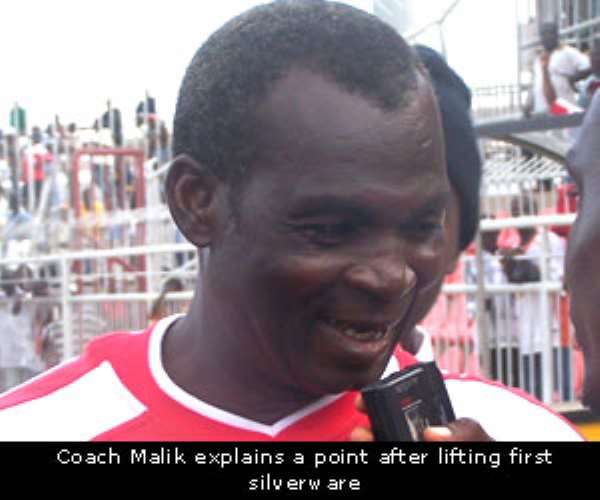 Accra, May 3, GNA - Coach Malik Jabir, Kumasi Asante Kotoko's under fire coach is singing the same chorus as his former Chief Executive, Major Lawrence Yaw Ampene Larson on allegations of supposed faceless people behind the recent agitations from a section of the Club's supporters.
The coach who was reportedly held hostage by some agitated fans after the team's 2-0 win over Sekondi Hasaacas at the Baba Yara Stadium in Kuamsi on Sunday, told the GNA Sports that, "those supporters are being cooked up to do that".
The former national star insists, "I first thought they wanted a win and now that we have won two games on the trot and they still look dissatisfied, it is for them to explain best the reason behind their actions".
Like Major Larson, the coach has some strong words for the so-called "faceless supporters" saying, "much as I respect their desire for a better Kotoko, I am in no mood to step down as they are clamouring for. In fact, until my employers feel otherwise about me, I won't be moved by their actions".
He told the GNA Sports that the current wrangling has strengthened his resolve to work harder in his quest to prove a point, which he says include annexing the league trophy he lost narrowly to Accra Hearts of Oak a month ago.
"To say that I am under pressure is an understatement. I rather feel stronger and charged to go for the kill to shame that handful of supporters who have no business doing what they are doing".
Coach Jabir expressed the conviction that those supporters would soon see "the light" and rather throw their weight behind the team that has won twice, lost one and have a game in hand in the four-week old premiership.
Information gathered by GNA Sports however indicates that Coach Malik's fate to lead the team to the end is glued to his ability to scale a supposed "five match win ultimatum" allegedly given by his employers even before the current agitations subside.
His fortune, according to the information was tied to winning the first five games that was issued by a five-member committee prior to the commencement of the league.
Though the coach might have consoled the long suffering Kotoko fraternity with the One Touch Gala Trophy which preceded the premiership, only a miracle can save him from being used as the sacrificial lamb when he locks horns with the all conquering Gomoa Fetteh Feyenoord on Sunday and clears the outstanding game against King Faisal next week.
The coach has come under the microscope of some supporters in recent times with the height been last Sunday's alleged verbal attack which has become the popular chorus of some supporters of the "Porcupine Warriors".
Similar signs preceded Major Larson's exit and pundits believe history could repeat itself in the current happenings.