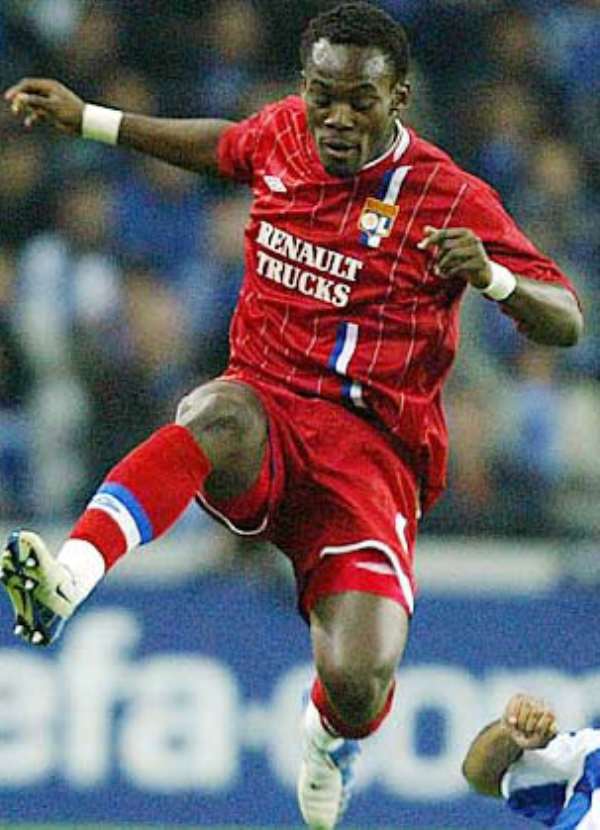 Without blowing their own trumpet, Olympique Lyonnais are advancing quite nicely in the UEFA Champions League. And much like his club, the Ghanaian Michael Essien is in the process of quietly building a reputation as a great player.
Just turned twenty-two, he is now being courted by Europe's top clubs, after successfully leading his country at U-17 and U-20 levels, graduating to captain the senior side and establishing himself as a key player for OL. Such has been the stellar career trajectory to date of the player dubbed "the buffalo", who despite being a man of few words, is surely set to attract much media interest in the weeks to come.
Ten goals in two games was the impressive tally clocked up by Olympique Lyonnais against Werder Bremen at the last sixteen stage of the Champions League. An unusual result in which the many qualities of the Ghanaian midfield phenomenon played an important role, confirming what French observers already knew and bringing Essien to the attention of Europe's football superpowers.
In the away leg, Essien stood in for his injured teammate Claudio Caçapa in central defence, an unaccustomed position to which he adapted impressively. A fortnight later at the Stade Gerland, he was back in midfield alongside Juninho Pernambucano, the other revelation of the Lyon engine room. The result? A brace in 13 minutes (17' and 30') and a performance hailed unanimously by all observers.
Born in Ghana on 8 December 1982, Essien first kicked a football in the backstreets of Accra in the company of a certain Anthony Obodai (born two days before him), now a defensive midfielder with Ajax Amsterdam.
Oh happy days… "We used to watch the big games on TV, then try to recreate the same moves on our favourite dusty earth pitch," he recalls. "The trees were our opponents who we used to dribble round, and sometimes we'd crash right into them. My friends just used to say, 'Stop crying, be tough', and I reckon that helped me develop a strong character." Anyone who has seen the way he wins ball after ball in every game will surely concur.
Courted by Europe's elite
While with the Liberty Professionals club back home, he was involved in Ghana's splendid third-place finish at the FIFA U-17 World Championship New Zealand 1999, before reaching the final of the FIFA World Youth Championship Argentina 2001 two years later. In spite of the defeat inflicted by Javier Saviola and Co., young Essien's raw talent caught the eye of several international observers.
On the strength of his displays at the South American tournament, Michael Essien earned a move to Corsican outfit Bastia. At this mid-table club, he stood out head and shoulders from the crowd, and before long, the big French clubs began to show an interest in this tireless ball-winner with a venomous shot.
Three years later, the race for his signature was won by reigning French champions Lyon, who have been more firmly than ever ensconced at the top of Ligue 1 this season and have qualified for the quarter-finals of the Champions League to boot. Essien, an ever-present in their European campaign, has settled well in France and is already like "part of the furniture", quite an achievement for a lad of 22…
Experienced, strong, and increasingly confident on the pitch, the Black Star is now being eyed by numerous top clubs. After almost joining Everton 18 months ago, the player is now being tracked by the likes of Juventus, Arsenal, Real Madrid, Barcelona and Manchester United, where Sir Alex Ferguson is said to view him as the ideal successor to Roy Keane. The irony of this situation is that the Mancunian club gave him a trial on his arrival in Europe, but administrative problems connected with obtaining a UK residence permit curtailed his English adventure.
Lyon's chairman, Jean-Michel Aulas, is determined to resist the pressure to sell: "A meeting has been planned for a long time with his agent to try to extend his contract, which runs until 2008. Michael is a top player." Despite such declarations, nothing has been finalised, but Aulas is confident: "I can reassure you that Essien will be with Lyon next season," he declared on 14 March.
In France, he draws praise from all quarters. "Physically, but also in terms of his impact on matches, he's the most impressive player I've played with," enthuses his team-mate Sidney Govou. Claude Le Roy, the coach of Ghana's rivals for Germany 2006 qualification, DR Congo, knows the midfield schemer well and does not mince his words: "He is definitely the best player in his position at the moment."
The words of Caçapa echo the general sentiment: "He is very strong and it won't be easy for Lyon to hold onto him." As is his wont, the man himself is not getting carried away: "Where all these rumours are concerned, I don't pay any heed and just let my agent deal with them." The "buffalo" prefers to do his talking on the pitch, not in the press.
A hectic end of season His Ghanaian international team-mates are equally proud of Essien, valuing especially the experience he brings to the side. Indeed, he had played in every qualifying match to date for the 2006 FIFA World Cup™, until missing out on the DR Congo match through suspension. Shorn of their inspiration, the Black Stars could only obtain a draw, leaving them three points behind Group 2 leaders South Africa.
Ghana's coach, Ratomir Dujkovic was understandably disappointed by Essien's absence: "I'm aware of his importance to the side and I wish he could have been there to help us in Kinshasa." But for Lyon at least, this suspension was a godsend, as "the buffalo" will be fresh to lock horns with PSV Eindhoven in the Champions league quarter-final on 5 April.