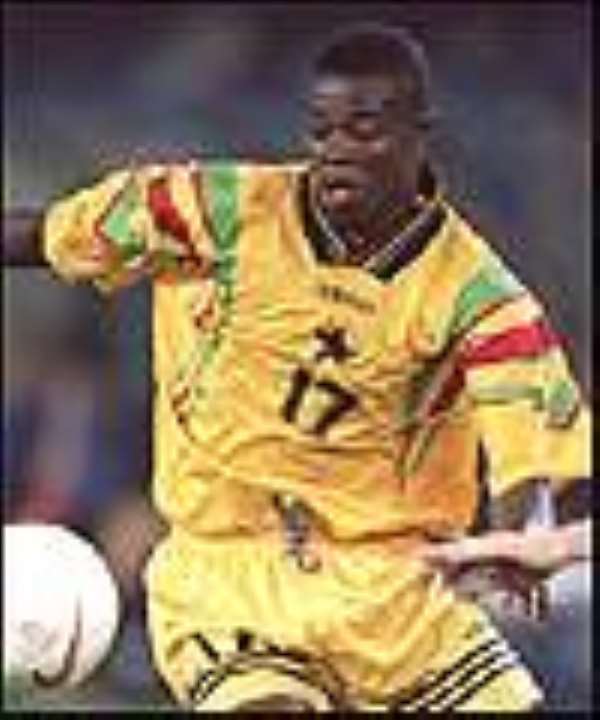 FORMER Black Stars and Olympiakos striker, Peter Ofori-Quaye, is now 90 per cent fit and can return to Europe. This comes in the wake of a four-year lay-off due to a career-threatening knee injury.
This was disclosed to Graphic Sports Dr Martin Engmann, the player's physician who also doubles as the medical consultant of the national team, the Black Stars, in an exclusive interview.
"Peter Ofori-Quaye is fit and even sharper than some of the players who have played regularly", he said.
Alhaji Sly Tetteh, President of Liberty Professionals Football Club, who is also the manager of the player, in a separate interview said Ofori-Quaye will be heading for Europe between May and June.
According to Dr Engmann, the injury situation of the Black Stars ahead of the World Cup qualifier against DR Congo is not so threatening. The worst injury, which is a 'bilateral groin strain', was sustained by Abubakar Yahuza of King Faisal and this could put him out of action for a while.
As a result he cannot play in the match. The other player is Ofori-Quaye, who, but for a hamstring injury last week, was 90 per cent fit.
Due to the unpredictable nature of hamstring injuries, there is a chance that the striker will be in good shape for the crucial World Cup qualifier.
According to him, hamstring injuries are sustained when some veins in the muscles get torn. When this is detected early, treatment can be administered and the player rests for about three days after which he is fit to play.
In Ofori Quaye's case, it is a fifty-fifty situation in the sense that the time between now and March 26 his condition may improve.
Asante Kotoko's Godfried Yeboah and Issah Ahmed sustained minor injuries and will be fit to play.
According to Dr Engmann, many people judge a player's fitness by his level of endurance. "Endurance is only a fraction of the whole picture", he said. He further explained he declared Ofori-Quaye fit because he is sound as far as the five main parameters of fitness assessment are concerned. He gave a detailed explanation about the player's fitness situation.
The first is Cardiovascular Endurance which involves the player's heart and blood circulation network. In this regard he is okay. In fact he is able to run around at a fast pace during training sessions.
The second is Muscular Endurance, which is the ability of the muscles to withstand repetitive movements without getting fatigued. Muscular strength is next, and this is similar to Endurance. In this regard Ofori-Quaye has been consistent with his ability to drive strong shots.
The next is Flexibility which is the ability of the joints to move without limitations. This was the area where Ofori-Quaye was lacking since his problem was with his knee joint. "At the moment he seems quick and flexible and has no limitations in joint movement. He is able to bend and straighten", Dr Engmann said.
Alhaji Sly Tetteh, on the other hand, told the Graphic Sports that clubs in Greece, the United Arab Emirates and Qatar have shown interest in the twenty-five year-old striker. But these offers have been turned down since most players only go to the Middle East towards the end of their careers. Ofori-Quaye, who is still in his prime, has a lot more to offer to the world of football.
He would, however, move back to Europe where he once plied his trade, and also where the world's most vibrant and competitive leagues are played and might land a deal in either France or Germany.
In the latter part of 2004, he travelled to England for trials at West Ham United but it yielded no positive result since team officials were sceptical about his level of fitness.
At the moment, Ofori-Quaye trains with Liberty Professionals at their Dansoman camp and is working on his phisique.