Chris Smalling grabs late winner as England beat 10-man Portugal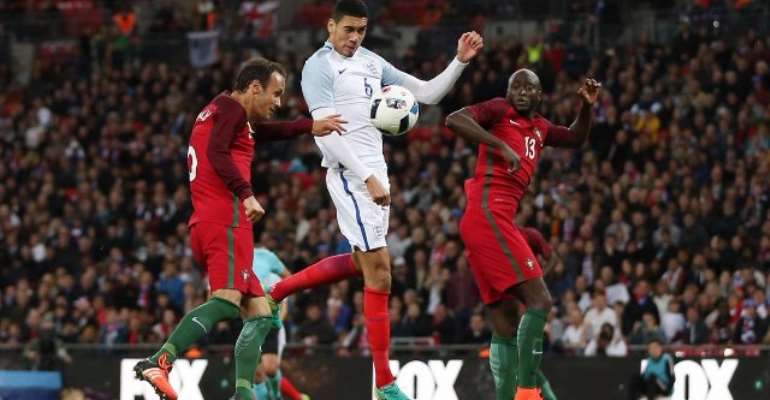 England and Portugal, potential quarter-final opponents in France, combined for a lacklustre friendly at Wembley, n by Chris Smalling's 86th minute header.
Set up in a diamond formation that compromised more or less every attacking player, England created very little - their best chance in the opening exchanges fell to Wayne Rooney, his shot superbly saved by Rui Patricio - but it turned out that he was offside in any case.
Then, with just four minutes of the first half remaining, Bruno Alves launched himself into the flying kick that nearly tore Harry Kane's face from its moorings. Fortunately, he took the impact on the forehead; Alves received as merited and obvious a red card as could possibly be, though Nani and Ricardo Carvalho were predictably incensed.
In the second half England again struggled to muster any attacking cohesion, with Jamie Vardy and Harry Kane forced out wide, Dele Alli uncomfortable on the left, and no winger on the pitch to stretch the away defence. But just as a draw looked inevitable, Patricio flapped away a free-kick, Raheem Sterling crossed, and Smalling guided in an excellent, controlled header.
Follow Joy Sports on Twitter: @JoySportsGH. Our hashtag is #JoySports