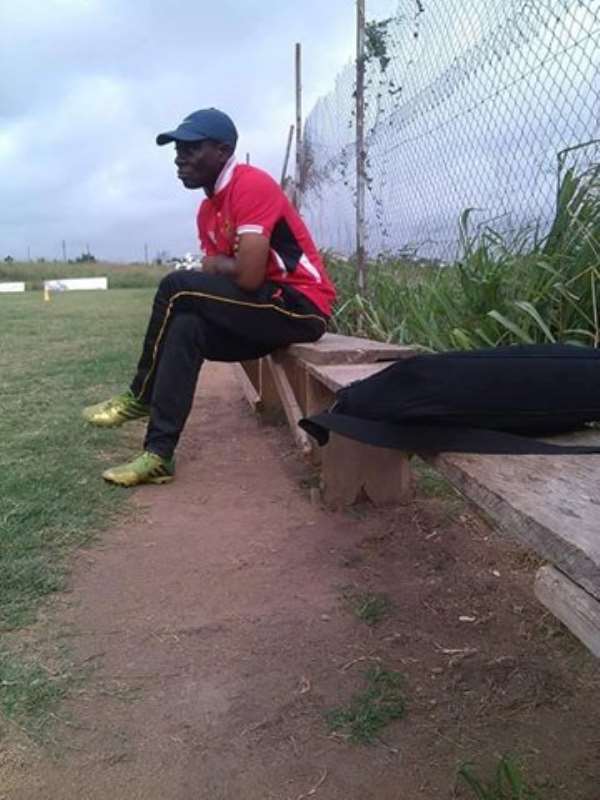 The drama in Asante Kotoko has taken a different twist following bizarre images coming out of Kumasi on Tuesday morning.
At the club's training facility at Adako Jachie, David Duncan is seen alone awaiting the arrival of his team. Meanwhile, the players are currently at the Baba Yara Stadium being taken through their paces by the Michael Osei. - See more at: http://www.myjoyonline.com/sports/2016/April-5th/drama-osei-leads-kotoko-training-at-baba-yara-while-duncan-waits-at-adako-jachie.php#sthash.36i0M24i.dpuf
The drama in Asante Kotoko has taken a different twist following bizarre images coming out of Kumasi on Tuesday morning.
At the club's training facility at Adako Jachie, David Duncan is seen alone awaiting the arrival of his team. Meanwhile, the players are currently at the Baba Yara Stadium being taken through their paces by the Michael Osei.
What is the reaction behind this current development?
NATHANIEL ATTOH (EDITOR, JOY SPORTS)
It is sad that Duncan went to training to sit on an empty pitch. It is very unfortunate but going forward, I think Kotoko needs to exercise a little patience and show more consistency. If it happens that Kotoko does not win in their next five matches, they have to make a firm a decision again and even if a new coach is appointed and fails to win the first five then another decision has to be taken. That is the pressure that comes with sitting in the big spaces as head Coach of Kotoko. Kotoko should take their time and be very thorough about the decision they are making involving who is going take over the technical direction of the club.
IBRAHIM RIDWAN ASANTE ( ASSISTING EDITOR, JOY SPORTS)
This is bad for football. It is bad for players and bad for Michael Osei. Who has built a relationship with David Duncan. This could bring disharmony between Osei and Duncan. The players could suffer the most from this drama. The read and listen to radio and it will be natural they form their judgement. There could be a case where there is no unity or stability in the club.
GODFRED AKOTO BOAFO (EDITOR, PULSE SPORTS)
It is an unfortunate situation. A situation which has not been handled properly and one that will degenerate further. I think Kumasi Asante Kotoko has once again exhibited a clear lack of administrative propriety while coach Duncan as usual has played to his egos of what he thinks will get him a better severance pay which is why he put up the act at Adako Jachie. I think it is the best interest of the playing body if this issue is resolved as soon as possible.

WILLIE GRAHAM (COMMENTATOR, GHANA PREMIER LEAGUE)
There is a huge gap in the Kotoko management. Very very huge gap. If a coach is made to leave the job, it is written and spelt out to him. They sit and both parties agree that this is the exit plan and for that matter thank him for his work. Where is the hanging situation in the club where coach is saying he is at post and players are heeding to another call? I think in terms of those management decisions, there is a huge problem at Kotoko. There is need for an immediate solution to this. It is not going well, it is not really telling for the professional level of the club. If they think Duncan is not perfect for the job, let Duncan know! Sit with him, put everything in front of him tell him we can't work with you. However, this is the exit plan and this is what we have for you. Where from all these issues where people ordering people to go somewhere and the players saying he is not going anywhere? It tells the sort of cracks in Kotoko which people have blinked their eyes over and is growing. It is really eating the club up. It is about time someone steps up and put his feet down other than that, Kotoko will be where it is now.

GEORGE ADDO JNR (GHANA LEAGUE CYPHER, ANCHOR)
Duncan is right with what he is doing at the moment. There is nothing as step aside in his contract, and thus, he is fighting for whatever is due him. However, he has to understand the cultural setting he finds himself. This is not the first time a Kotoko coach has been asked to step aside. On the pitch, Duncan has failed. There have been contributing factors but on a whole, he has failed. The team are at the same level as they were under his predecessor. Judging by the fact that he was brought to improve the team, then he has failed. Issues in the team however are beyond technical. The issue of player bonuses and internal politics in the team are well documented. In all this, the management should be clear on one thing. Sack him and face the consequences.
BENEDICT OWUSU DANKWA ( BROADCAST JOURNALIST, JOY SPORTS)
This is very embarrassing and I wonder how the owner of the team Otumfuo Osei Tutu feels about all that is happening.This clearly shows that there is no clear direction of bringing the team to the level the fans and everyone at the club want.You can't really blame coach Duncan because he is acting according to what is in the contract he signed with the club when he took over, and I'm sure if I were in his position probably I would have done sameThe management led by Opoku Nti has not managed the situation well and if care is not taken things will get out of hands If you want Duncan out of the team, make it categorical and sack him, what is this thing about step aside?I pray they are able to resolve this issue in time before their next home game with Liberty Professionals if not they should embrace themselves for the worse.

BENEDICT MENSAH MOSHOSHO ( SPORTS HOST, ASEMPA FM)
David Duncan is wrong to sit at Adjako Jachie. He can be perceived not to have gone to work. He knew where the team was training so he should have located the team and attempted them to do his job. If he was denied, then he will have a say. At this point in time, the management can have a case against him as not going to work.

ENOCH WOLANYO WALLACE (SPORTS HOST, ASEMPA SPORTS)
Duncan's act is clearly based on legality. He is putting up this as a form of evidence. There is no other reason behind this. Kotoko should have used a proper channel to communicate this decision. The team has a management and board, yet their Public Relations Officer, Kwaku Ahenkorah, signed the letter which asked Duncan to step aside. There are interesting times ahead.
FRANK AKWASI AGYAM ( BROADCAST JOURNALIST ADOM/ASEMPA SPORTS)
Both parties are to be blamed in this whole situation. David Duncan should have been given a letter to state he has been asked to step aside. Duncan was appointed by the Kotoko management therefore, they have the rights to ask him to step aside. He clearly has to abide by what his employers say. The Kotoko management have clearly shown a lack of professionalism. Duncan is the head of the playing and therefore he is the one to call the shots in terms of training and all footballing decisions. This situation will clearly bring divison especially because most of these players were bought by Duncan. Can they play for the other coach. Both parties need to act professionally to resolve this issue.
ERIC ASIEDU BOADU ( BROADCAST JOURNALIST, ADOM/ASEMPA SPORTS)
We have followed football for a long time and there is nothing new about being asked to step aside. Stepping aside is not being sacked. Duncan just wants to use book knowledge here. He should just swallow his pride. There is no sense in sitting at Adako Jachie and crossing his legs. What was he expecting? Even Mourinho was sacked after a poor season. We are not children in Ghana here. Duncan should just swallow his pride. What has he achieved at Kotoko? Didi Dramani who won two league titles was sacked.
IMMORTAL AGYARKWAH (SPORTS PRODUCER, ASEMPA SPORTS)
Duncan is putting up this act to get himself sacked. This is clearly a tactic being used by Duncan to receive compensation. He is well backed by his legal team and will use all means possible to receive full payment just like his time at Hearts. This issue is legal and beyond mere administrative issues.
MOSES YEBOAH (SPORTS PRODUCER, JOY SPORTS)
Kumasi Asante Kotoko are well within their rights to do away with any manager they deem not good enough to keep the club at the highest level. However, as professional as the Porcupine warriors claim they are, they should come clear on this issue. Sacking a manger is nothing new in world football and informing Duncan he has been dismissed falls well within their jurisdiction. Kotoko must stop beating about the bush and hit the nail right on the head. To my understanding, step aside means step down which also means resign or relinquish one's post. Therefore Mr Drama, David Duncan, with all his pedigree, should also know better that his era at Kotoko has ended.
KWEKU ARHIN ( JOY SPORTS)
This is a pretty comical situation. However, the fans of the club are those being tortured in all this. It will be expedient to bury the hatchet as soon as possible and aim to take Kotoko out of this predicament. If the management feel Duncan is not the right man for the job, they need to go about it in a professional manner. Both parties have to sit at settle it amicably. At the moment, this is purely a joke and a major stain on the Kotoko brand and Ghana football.
Follow Joy Sports on Twitter: @JoySportsGH. Our hashtag is #JoySports
Story by Ghana/Joy Sports