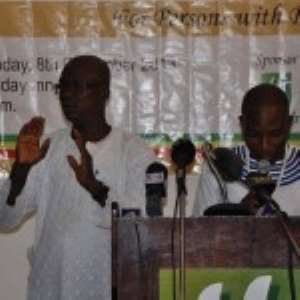 Sackifio delivering a speech
President of Emperor Gaza International Foundation (EGIF) a disability sports NGO, Prince Charles Sackyfio, has called on government to find a lasting solution to the Agogo and the Fulani herdsmen saga.
He expressed great worry over the issue, which he pointed out in a release, could have telling effect on the country in general and the people of Agogo in particular.
The release stated "It is a known fact that the farmers in question work so hard to produce food to feed the nation, yet some end up losing their lives through clashes."
"When famine sets in during the dry season, cattle farmers, particularly the youth find it difficult to feed their animals, but I think they should find another way of feeding their flock rather than engaging the farmers of Agogo in a fight."
The EGIF boss is therefore calling on the Inspector General of Police (IGP) John Kudalor and DCOP Nathan Kofi Boakye to address the issue with the urgency it deserves to restore peace in the town.
EGIF is a vibrant NGO that addresses issues regarding disability sports and the less privileged in society.