Ghana defender Harrison Afful targets 2016 MLS Cup with Columbus Crew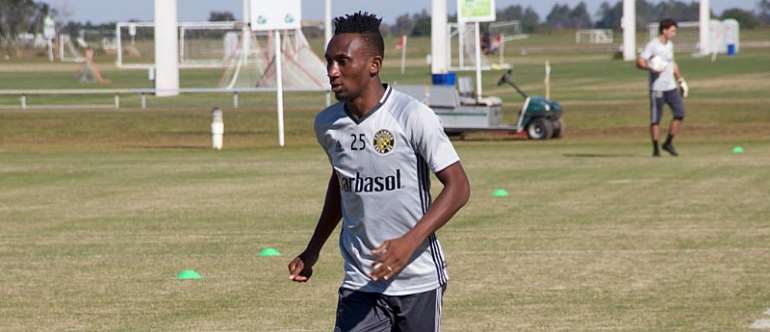 Ghana defender Harrison Afful is determined to win the MLS Cup with Columbus Crew in his second season.
Afful is experiencing his first pre-season with his club.
'So far I'm enjoying it and it's been great; it's been fun,' he says. 'The new ones joined; everything is moving along very well. We're more like a team, like a family.'
'We have some off-time here, so it's been great,' Afful says. 'I think it's also part of the game.'
The right back says the team continues to work hard each and every day on the pitch, and that fervent work brings the guys closer together.
Afful recognizes the importance of team chemistry and is glad he gets to experience this dynamic time with his teammates.
However, the Ghana international doesn't think participating in pre-season makes or breaks a player's performance throughout the year.
'Everything in football depends on you, the person,' he says. 'You, the player, you have to focus; whether that's coming in at the end of the season or starting with the team at the preseason, it doesn't matter. You have to psych yourself up because it's a big challenge that you've taken and you have to fight for that challenge.'
Afful overcame that challenge in his first season with the club, making an immediate impact and putting up impressive stats.
He recorded two assists in just nine regular season matches, dating back to his debut in Black & Gold against New York City FC on August 19.
From the start Afful excelled in getting involved in Columbus' attack. Since he joined the club, he led all of MLS with 57 crosses from open play—12 more than the next guy.
Now the defender aims to build on that performance.
Football is always about learning,' he says. 'Each and every day you need to learn new stuff and listen to the technical staff. Then you keep going. You keep pushing up—even if you're not going anywhere—keep pushing up, head's up and make sure you do your best.'
As Afful sets his personal goals for the upcoming season, he only has one objective for his club.
'My expectation is just the one: just to win the trophy for the club," he says.
"This year, we are ready and we are going to get that trophy for the club and for the city.'
As preseason continues, Afful already has his sights set on March 6.
'We are so ready. We can't even wait for the season to start.'