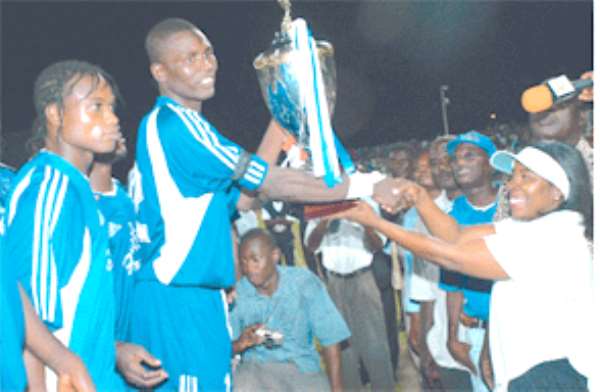 Tamale, Oct. 6, GNA - There was wild jubilation in Tamale on Wednesday evening soon after the Real Tamale United (RTU) beat Kumasi Asante Kotoko to lift the GHALCA special Knock-Out cup played in the Accra Sports stadium. Jubilant supporters of the club clad in the team's T-shirts and hoisting flags around Kokuo, near the offices of the Ghana News Agency expressed their joy that for once RTU had beaten Kotoko to lift a cup. Some of the supporters who spoke to the GNA expressed gratitude to the players and officials of the club and called for massive support so that RTU can go ahead to win the Premier league to prove to Ghanaians that there are football talents in the north sector of the country. Mr Albert Atutiga, Vice Chairman of Tamale Youth Association said "The team has made the whole of Dagbon and the north proud for playing tirelessly to win such a prestigious cup". He indicated that if the venue were to be at the Kaladan Park in Tamale, the margin would have been more than just one goal considering the way the club played on the neutral ground. "Watching the match on Television and listening to the commentator, Mr Kwabena Yeboah, who is a football analyst showed that the boys did not get the goal on a silver platter" Mr Atutiga said.
Mr Atutiga who is also the Northern Regional Chairman of the Ghana Boxing Association called on all football loving people in the north and across the country to lend their support to RTU so that the team continues to chalk successes.
Mr James Etongmah, a laboratory assistant who was among the jubilant fans said RTU has made Tamale and the whole of the north proud by beating Kotoko to lift the cup.
He said before the commencement of the match, he was not sure that RTU could carry the day but the way the Tamale team held their opponents to goalless until the recess convinced him that RTU could lift the cup, which they actually achieved.
He expressed the hope that RTU would win this year's league considering the way they handled Kotoko.
Another supporter, Mr Kofi Appiah said he would have refused to eat if RTU failed to lift the cup saying, "I support the two teams but when the two are playing, I support RTU".
He called on the people of Dagbon to be united through sports and give peace a chance for total development of the region both in sports and in economic activities.