Fergie factor: Usain Bolt changes his mind about playing for Manchester United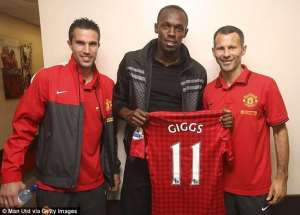 Usain Bolt is a fan of English Premier League club Manchester United and the Jamaican has made sure everybody who knows how good he can run knows the club he supports.
The athlete who popularly made know of his desire to play for the Red Devils once he retired from athletics has changed his mind about playing football.
Now you're thinking, is it because Manchester United are not as they used to be under Sir Alex Ferguson, with both managers [David Moyes and Louis van Gaal] after the long serving Scot struggling to keep up with the pace set?
Yes.
Usain Bolt has disclosed in a recent interview, jovially stressing he'd never play for Manchester United because the weather is too cold and Manchester is too far.
The Jamaican also said in a more serious answer, giving the Ferguson retirement injury as a factor.
Bolt said at the unveiling of his new PUMA IGNITE shoes:
'A few things have changed my mind a little bit. The fact that Alex Ferguson retired and the cold weather! I'm not a fan of it!
"I did a shoot with [Sergio] Aguero, who is another PUMA ambassador, and we were in the kit and it was horribly cold in Manchester.
"I actually joked that he should lose the [then upcoming] derby match but they beat us, which wasn't cool
Usain Bolt in a Manchester United shirt on a football field, what a sight of footballing pace that would have been to behold.